The hope is that Ocado's new fulfilment centre will put operational issues firmly behind it.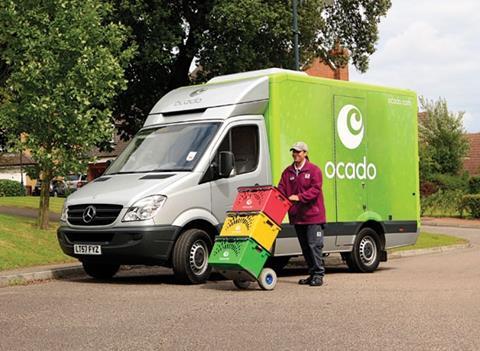 Few retailers have had their business model scrutinised by commentators and investors as intensely as online grocer Ocado.
Founded as LM Solutions in 2000 by three former Goldman Sachs bankers – Tim Steiner, Jason Gissing and Jonathan Fairman – the etailer became Ocado in 2001.
The grocer's points of difference, alongside its structure, include the claim to offer better quality, convenience, freshness, reliability and accuracy of delivery than its rivals.
Since its inception, Ocado has had a sourcing agreement with Waitrose that allows it to sell the grocer's products alongside Ocado own-label and branded goods.
However, Waitrose itself has started an online grocery operation, relaunching its website in 2011 and opening a dedicated dark store in West London to support the move, spooking investors that Ocado might lose its point of difference. Its Waitrose contract is due for renegotiation in 2017.
Another thorny issue has been Ocado's inability to turn a profit – as it continually invested to increase its scale – until it made a marginal operating profit in 2010/11.
The etailer's model has changed a number of times, initially serving the Hertfordshire region before widening its scope by using smaller hubs, called spokes, which distribute deliveries in local areas, giving it national coverage.
Ocado chief executive Tim Steiner has urged commentators to refrain from comparisons with the big grocers' online operations. Sainsbury's and Tesco have preferred to pick from stores, while Ocado's Hatfield distribution centre handles about 25 supermarkets' worth of product volumes. Steiner also highlights Ocado's 300 IT staff and claims the algorithms it has developed to distribute goods from its customer fulfilment centre (CFC) are ahead of the market.
Convinced of the company's strengths, Steiner led the charge to woo the City and in July 2010 Ocado floated on the Stock Exchange. The IPO strengthened its balance sheet by £200m.
The process itself proved difficult for Ocado. Retail Week Knowledge Bank notes it was "lucky to get the flotation away" amid doubts about its model and its seemingly inflated share price.
Despite the float, Ocado's troubles continued as capacity constraints hampered its performance.
Highlighting the distribution and capacity problems during 2010/11 the etailer was forced to temporarily reduce its product range to less than 20,000 lines to create space to allow the development of additional automation to proceed.
During the second half of 2011, Ocado had to hire additional temporary staff and reintroduce some manual picking to provide a short-term increase in operational capacity.
With capacity holding back sales in 2010/11, the development of a second CFC in Dordon, Warwickshire has become a priority.
Construction work on the £210m project started in April 2011. Building work was largely completed by the end of 2010/11 and equipment installation is now underway.
Ocado will end up spending most of the cash raised by its IPO on building the new site, set to open in early 2013. By then it will have more than trebled the distribution capacity of the business since 2009.
To deliver a quick return on its CFC investment, Ocado is to ramp up its marketing using tactics such as money-off deals.
Ocado has set the agenda with mobile grocery, becoming the first to create an iPhone app and continuing to invest in the channel.
The grocer has also worked on developing its non-food offer. Last year, Ocado hired former Tesco UK operations development director Simon Belsham to spearhead its non-food business, which launched in 2008. It now sells products across gardening, leisure and homewares.
However, sceptics still fret over the etailer's long-term future because of the potential end of the Waitrose contract.
But Steiner remains confident. He said earlier this year: "It is our mission to make sure that customers continue to regard Ocado as the home of online grocery shopping."
All in the delivery
Total 2010/11 sales £600m
Chief executive Tim Steiner
Commercial director Jason Gissing
Operations director Mark Richardson
Director of legal and business affairs Neill Abrams
Head of grocery Lawrence Hene
Head of non-food Simon Belsham