A Retail Week and Cognizant roundtable revealed the key things retailers must get right to effectively use shopper data to personalise offers.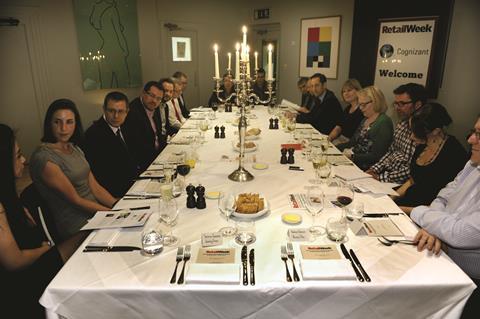 Retailers have access to an abundance of data on consumer behaviour and are gathering a glut of shopper information from social networks, advances in technology, the continuing rise of ecommerce and the growth of mobile usage. But if they can't analyse or interpret such data, it is meaningless.
That's why extracting the right information, and using it to reward custom and provide a more relevant shopping experience, is key to retailers winning and retaining customers.
One way retailers are doing this is through loyalty programmes. Proving the popularity of such schemes, a recent survey carried out by consultancy Conlumino found nearly 95% of consumers have at least one loyalty card and 90% say they use them regularly.
Along with grocers Tesco and Sainsbury's and their use of Clubcard and Nectar data respectively, the Boots Advantage Card has led the way in UK loyalty schemes.
To better understand how Boots uses data to create more meaningful interactions with its customers, Retail Week invited the company's director of digital and loyalty, Ruth Spencer, to speak at a roundtable event, sponsored by IT business Cognizant and attended by leading retailers. An authority on loyalty, Spencer joined Boots UK five years ago to oversee the development of the Boots Advantage Card.
Previously she was director of customer strategy and customer relationship management at the Co-operative Group, and has worked for Accenture, NatWest and Shell.
The question of how to use customer data is as relevant today as it was when Spencer first started out. "Back in 1994 it felt just as scary. The scale has moved on, but the problem of 'there's so much data, what do I do with it?' is exactly the same thing," she said.
Lasting principles
Spencer said some of the retail marketing principles important in 1994 have endured over the past two decades.
The first lesson Spencer learnt, that is still applicable in 2013, "'is like the Hippocratic oath - first, do no harm".
She explained retailers can damage their relationship and trust with consumers if they get personalised offers and promotions wrong.
"The problem remains that consumers can come in with dramatically different shopping missions on different days.
You still have to ensure you target vouchers based on the complete transaction history and not just what's in that basket," Spencer advised.
However, shoppers still have boundaries around how much data retailers should use to personalise the shopping experience. Spencer highlighted that the second retail principle is offers must be helpful without being intrusive.
"You can't use all the data that you've got, because there's a line between personalised and creepy," she continued. She believes the third principle has as much relevance now as it did 19 years ago: "You can write all good promotions on a T-shirt." And if you can't, "no one is going to bother engaging with it to find out what it is".
Big data today
However, much has changed since Spencer joined Shell as an IT graduate in 1994. Firstly, the emergence of Big Data has contributed to rising consumer expectations, and she believes now that customers expect retailers to use the data to make the shopping experience more relevant. Echoing this point, the Conlumino survey found nearly 50% of shoppers would be likely to use a retailer if it provided personalised offers.
The next big change is the emergence of the need for a single customer view as businesses strive to have "a complete picture of what customers do", in real time across channels. This has become increasingly hard for retailers that use old legacy systems and face the challenge of ripping them out and replacing them with more modern ones that have clear interfaces and can be linked more easily.
"The single view of a customer is something we're all grappling with, especially if you're someone like Boots, [which had] legacy systems. For example, [Boots'] opticians business ran under a different system and a different platform from Boots.com and Advantage Card, so you've got to do the heavy lifting to make it join together," Spencer said.
Another transformation is how retailers measure ROI, as customers increasingly chop and change channels. "ROI is still vital, but it has become more sophisticated because in a multichannel world it's not enough to say 'I'll measure them all in silos and not recognise the interaction across them'," Spencer said.
One way retailers can get a better picture of consumer behaviour across multiple digital platforms is through accessing their digital footprint.
Cognizant terms these digital footprints 'code halos'. They are made up of consumers' personal data, such as the websites they've viewed, the movies they've watched, the music and books they've downloaded, and the goods they've bought online.
The company claims that when retailers harness such information they can completely change the conversations they have with their customers, how they seek them out and the quality of the services they offer.
Euan Davis, director of Cognizant's Centre for the Future of Work in Europe, said: "The younger the consumer, the more willing they are to share their data if they get a better experience back from the retailer. So if they see better targeting of products and services that's why they want to share their data. It's all about the 'give to get' ratio."
Despite the benefits such personalisation offers, there was a consensus around the table that it cannot compensate for retailers not getting their core offer right in the first place.
Liz Robson, head of information services at Homebase, said: "The product has to be great to drive customers to your website and your mobile channel - then it is all about added value. Customers come into stores, talk to a consultant about our installation service and how we can help them complete their project. It's about giving them reasons to stay to complete [their buying] journey in your store rather than going somewhere else."
Customer-centric strategy
As more retailers - both on the high street and online - offer loyalty schemes, consumers will become increasingly demanding about what they want. And that means it's never been more important that businesses adopt a customer-centric strategy, the retailers at the roundtable concluded.
Loyalty schemes will become increasingly sophisticated as consumers demand "solutions for their life", and not necessarily purely financial incentives, predicted Alessandro Valenti, senior vice-president of digital, Europe at Ralph Lauren. "The consumer is moving away from simple, immediate rewards. The culture is different - it's more about a solution and less about reward," he said.
The explosion in information about consumer behaviour, and the way shoppers want loyalty to be rewarded, mean it's crucial retailers understand the power of data and what to do with it, added Dom McBrien, ecommerce director at The White Company.
"With all this information that's available, it's a question of how you empower everyone in the business to have easy access to the information and not to have to wait for three people to inform the other 100," he said.
Spencer agreed, observing that at Boots each member of staff is "customer insight-obsessed", from category buying teams to in-store teams.
She concluded: "Everybody has to base their decisions on customer insight. Our recruitment of the customer insight team is some of the most stringent recruitment that we do - you can find people with the best maths qualifications, the best operational research experience, but if they've not got commercial nous and an instinct for retail, they're not going to produce the right results."
Boots Advantage Card
Launched in 1997, it has 17.9 million active members who spend on average over 60% more per transaction than a non-member. According to the retailer, about 90% of its active members are women, representing nearly two thirds of the adult female population in the UK, and over 60% of its retail sales are to members.