Marks & Spencer has struck a £1.5bn joint venture partnership with Ocado in a bid to "transform online grocery shopping in the UK".
The deal will effectively split Ocado's grocery business from its Ocado Solutions technology division. M&S will pay £750m to take 50% shareholding in the former, with Ocado retaining ownership of the remaining 50% of the business.
The joint venture will trade as Ocado.com, offering 50,000 SKUs including M&S' own-brand food lines, which will be available to purchase through the ecommerce platform from September 2020.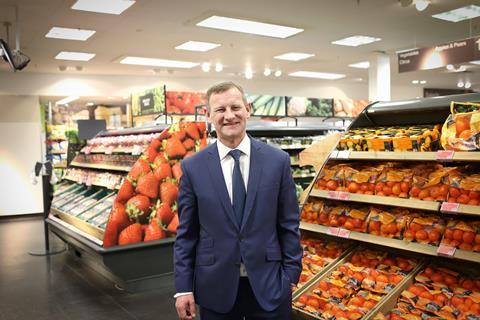 At that point, the deal with M&S will replace Ocado's existing sourcing agreement with Waitrose.
Ocado said the joint venture with M&S will represent one of Ocado Solutions' "largest partners", following the deals with French operator Casino, Canadian grocer Sobeys and US titan Kroger.
M&S and Ocado said the move would "benefit existing and new customers, colleagues, suppliers and shareholders".
M&S plans to fund the deal primarily by equity, but said it also intends to raise up to £600m through the launch of a rights issue "in due course".
The retailer will also slash its dividend 40% to "a sustainable level", although it said this will "grow in line with earnings over time".
Ocado boss Tim Steiner said: "We are delighted that our UK retail business will become a joint venture with M&S. This is a transformative moment in the UK retail sector with the combination of two iconic and much-loved retail brands set to provide an unrivalled online grocery offer.
"We believe that this is the best outcome for customers, offering even greater range, service, quality and value; the best outcome for our Ocado Solutions partners, creating a stronger platform from which to innovate and develop our unique and proprietary technology; the best outcome for Ocado Solutions with a further endorsement from another leading global retailer; and the best outcome for our financial stakeholders, unlocking the significant value embedded in Ocado Retail.
"The combination of the qualities of Ocado and M&S will allow us to grow faster, add more jobs and create more value, as we lead the channel shift to ecommerce in the UK. We are very excited by the many opportunities ahead."
M&S boss Steve Rowe added: "I have always believed that M&S Food could and should be online. Combining the strength of our food offer with leading online and delivery capability is a compelling proposition to drive long-term growth.
"Our investment in a fully aligned joint venture with Ocado accelerates our food strategy as it enables us to take our food online in an immediately profitable, scalable and sustainable way.
"Combining the magic of M&S Food with Ocado's leadership in online technology allows us to transform UK online grocery shopping offering customers the broadest, most innovative and relevant range in UK food retail with award-winning service. Our partnership with Ocado will create shared value for our customers, colleagues, supplier partners and shareholders, operating with a common sense of purpose and values.
"This is a transformational step forward in shaping the future of M&S and in becoming a truly digital first retailer with at least a third of the business online."
Waitrose managing director Rob Collins said: "We have strengthened our own online business significantly and said last summer that we will double Waitrose.com within five years. Today's announcement will be a major part of achieving this and in future, Waitrose.com and our shops will be the exclusive places in the UK to buy Waitrose & Partners products.
"Waitrose.com sales are growing at 14.2%, well ahead of the market, and customer satisfaction scores for both fulfilment and the website are showing sustained and significant increases too.
"We are planning a second fulfilment centre to support our growing volumes in London and will be able to welcome thousands more online customers to Waitrose from the end of this year.
"We have valued our relationship with Ocado and thank them for the last 19 years."
Retail Week Live 2019
Jim Cruickshank, global head of digital product and UX at Marks & Spencer, is among the speakers taking to the stage at Retail Week Live on March 27 and 28, at London's InterContinental O2 hotel.
To check out the packed programme, and book your tickets, click here.
Analysis: M&S and Ocado – the £750m questions answered
1

2

3

4

Currently reading

M&S and Ocado strike £1.5bn online grocery deal