Grocers have taken divergent positions on how to manage the new requirement for shoppers to wear face masks in English stores once again, as concerns mount about the new Covid variant.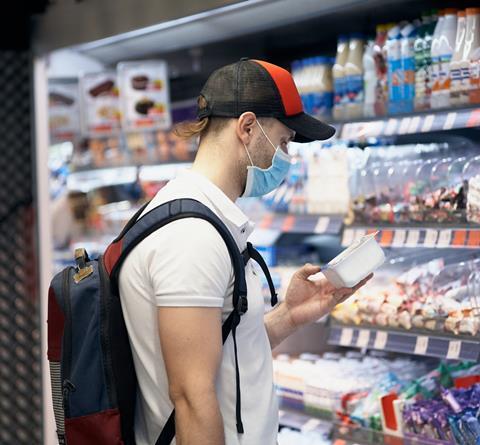 Sainsbury's has stationed greeters and security staff at the front of its shops, while Iceland has said that it cannot be responsible for policing the new rules.
Sainsbury's chief executive Simon Roberts said in an email to customers: "Throughout the week we'll be putting new signs and posters up in all of our stores and we will have greeters and security guards at the front of our supermarkets to support our colleagues as we help everyone get used to the new rules…
"We are doing everything we can to keep everyone safe this festive season – thank you for your ongoing support."
However, Iceland managing director Richard Walker told BBC Radio 4's Today Programme: "We spend millions on security each year but the scale of this is such that we simply cannot police every store, every hour of every day. It would cost millions and put us out of business."
Iceland is "politely asking customers" to obey the mandate to mask up, introduced in England by the Government yesterday - and already mandatory in Scotland, Northern Ireland and Wales.
But Walker maintained: "What I won't be doing is asking my store colleagues to police those who refuse to adhere to the rules."
The reintroduction of face mask requirements in stores, which may result in fines for those who fail to comply, prompted concern among retailers that staff would suffer abuse and violence - such incidents rose during the heights of the pandemic.
Tesco said that "to encourage compliance with the law, we will have prominent reminders in place so customers are aware that it is mandatory to wear a face covering in store unless they are exempt".
What is the police's stance?
The police have pledged to address problems that may arise. National Police Chiefs' Council assistant chief constable Owen Weatherill said: "Police forces will increase officer visibility where possible in high-risk and crowded areas, such as towns and shopping centres, and near transport hubs.
"If officers encounter individuals not wearing a face covering on public transport or in shops, they will engage with them, explain the risks and encourage them to comply with the new rules. Forces will continue to enforce coronavirus regulations where it is necessary to do so. We will support transport and retail staff in ensuring people wear face coverings in line with the regulations.
"We will work closely with businesses and will continue to respond to incidents where individuals are violent or abusive towards staff or members of the public."