John Lewis sales increased 6.1% to £69m for the week to August 9 as consumers battled hurricane Bertha to go shopping or turned to online.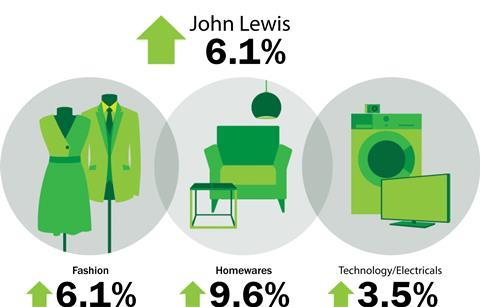 Online sales increased 20% on the back of strong demand for home and fashion lines, while the continued popularity of click-and-collect comes as the group rolls out the service to an additional 90 Waitrose branches in the next few weeks.
Once again High Wycombe was the top performing shop, while Southampton performed well despite being battered by poor weather caused by hurricane Bertha on the Northeast American seaboard.
Big-ticket items proved popular as furniture sales increased 20% after a 23% surge in bed sales, while textiles also performed well.
A sunny start to the week and a return of The Great British Bake Off to TV screens contributed to a strong week for Waitrose, as like-for-likes increased 8.2% to £117.8m.
Sales of glacé cherries were up 25%, and piping bags were up 14%, suggesting Mary Berry's cherry cake proved popular with viewers.
The appearance of an ice cream scoop on the show appears to have had a knock-on effect on Waitrose as sales of scoops jumped 10% year-on-year.
Warm weather drove barbecue meat sales, which were up 47% and demand for fish leapt 28% as people continued a trend for lighter meals.
People also turned their attentions to the garden with demand for the outdoor living range rising 20%, while the Waitrose horticulture range saw a similar 18% uplift.