Luxury fashion etailer Farfetch has rolled out same-day delivery as it presses ahead with expansion plans and investment in operations.
The online retailer, which partners with independent luxury boutiques throughout the US and Europe, has ramped up its same-day service to include 50 stores in nine major cities. The fulfilment option is now available in New York, Los Angeles, Miami, London, Barcelona, Milan, Madrid, Paris and Rome and will cost customers £18 per delivery.
It comes a year after Farfetch launched a click-and-collect service for shoppers at 100 of its stores.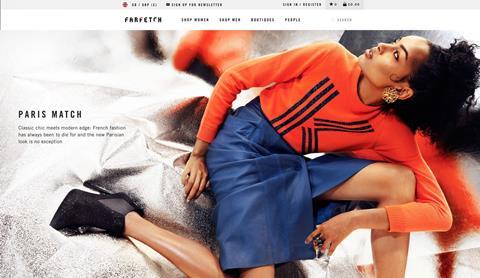 Farfetch founder and chief executive Jose Neves said: "Our goal is to provide a 360-degree shopping experience like no other and our same-day delivery service is another layer of commitment to our loyal Farfetch customer base."
The move follows a further wave of funding secured in March, when the etailer secured $86m (£55.9m) predominantly from Digital Sky Technologies. That total took the amount it has raised since launching to $195m (£126.8m).
Since securing the funding the company has acquired London-based fashion boutique Browns, a retail partner, to trial innovative new ecommerce technology and omnichannel services for potential roll-outs across the network.