John Lewis has extended its Never Knowingly Undersold (NKU) price-matching policy to its website.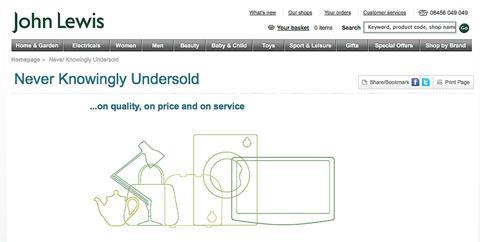 The retailer expects the decision to impact the electricals category in particular, removing John Lewis' inability to compete on price with specialist rivals Currys and PC World, owned by Dixons, and Kesa-owned Comet.
John Lewis managing director Andy Street said the decision to extend the strategy to all products on johnlewis.com "puts us straight up against Kesa and Dixons.
He said: "We think this is a really decisive move.We have been getting progressively nearer to it. This is the last step. This is eradicating the last moment of doubt."
Street added that the department store, which uses its Never Knowingly Undersold strategy in its 28 stores to match prices on a national basis and on a more local basis against individual promotions, would use NKU online only to price match against bricks and clicks retailers and not pureplay etailers.
He expects to offset any margin hits in electricals to hold total margin across the chain despite the move, because of better bought-in margins. He also reaffirmed that the retailer would be the last to pass on the VAT increase to 20% in January.
Sales of electricals at john Lewis during the first half rose 6.7%, helped by the World Cup.
In the six weeks since the half end, sales of electricals – which has a more established base to grow from - grew 3.6% said Street.