Google will allow consumers to buy products from within video ads on YouTube by adding a 'click-to-shop' feature.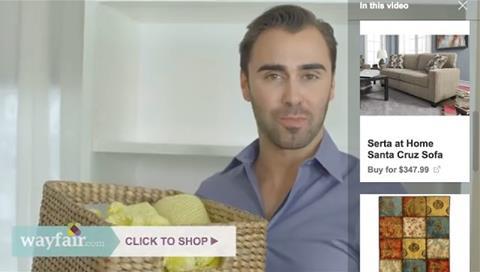 The web giant is opening up its TrueView video advertising service to allow shoppers to click on retailers' ads to purchase from their sites.
The feature will be available across devices because around half of views on YouTube come from mobiles.
In a blog post, YouTube product manager Avi Fein said the initiative is designed to "connect the dots between the moment a person watches a video and the moment they decide to make a purchase".
YouTube has been testing the function with US online homewares retailer Wayfair and says it has already recorded an improve ROI.
Wayfair reported a threefold revenue increase per ad impression served compared with its previous campaigns.
Meanwhile, beauty retailer Sephora drove an 80% lift in consideration – the measurement used to determine whether a consumer would shop at a retailer – a 54% lift in ad recall and an average view time of nearly two minutes during a trial of the new format.
YouTube is expected to rollout TrueView for shopping in the coming months.
Google's latest move comes as it increasingly seeks to compete with companies including Amazon and eBay in the marketplaces space.
It is rumoured to also be working on a 'buy button' to allow smartphone users to buy from search adverts without leaving Google.