With 2019 just around the corner, how are shoppers feeling about the year ahead and how can retailers win their loyalty?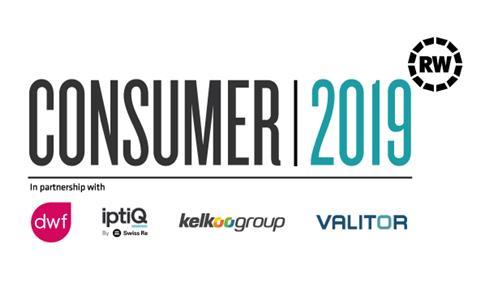 A few notable exceptions aside, 2018 has been a punishing year for retail, characterised by CVAs, store closures and job cuts.
But with the golden quarter well under way, many retailers will be looking to 2019 and wondering if there will be respite in store for a sector battered by business rates and footfall declines.
If recent headlines are anything to go by, uncertainty seems to be the only thing certain for 2019.
As GfK's client strategy director Joe Staton points out, this is nothing new for UK customers post-Brexit vote, who so far have taken the seismic political shift on the horizon in their stride.
"In a way, I'm surprised, because although consumer confidence is negative, it hasn't fallen off the cliff," he says.
"Post-Brexit vote, it did dip but it didn't plummet compared to the recession in 2008. There's a wait-and-see stoicism built into us as Brits, so every month I see the numbers come through, I expect them to be worse."
GfK's monthly confidence tracker has been relatively steady throughout 2018, with a point dropping here and there but nothing too drastic in either direction.
The confidence dam bursts
Nevertheless, 2019 is the year that Brexit will move from what some see as an ominous storm cloud in the distance to an actual reality for UK shoppers and businesses. Against that backdrop, how are shoppers feeling about the year ahead?
Research carried out by Retail Week in partnership with legal business DWF found the level of confidence customers feel related to a variety of wider issues is set to decline.
When asked whether they felt more, less or the same level of confidence in the political situation in 2019 compared with 2018, 51% of 1,000 respondents said they felt less confident, while only 11% said they felt more confident.
Similarly, 48% of respondents said their confidence levels in the general economy were comparatively lower for 2019 than they had been for 2018, in contrast with 14% of consumers who felt more confident.
Staton says this growing sense of unease could mean 2019 is the year that the dam holding a consumer confidence plunge at bay bursts.
"There have been three years of it bumping around without particularly strong signals from the [consumer confidence] data, and 2019 could be the year we see some strong signals emerging," he says.
"I cannot see any strong message coming through from any angle that next year will be great from an economic perspective or a political one. Consumers are like markets, they respond to certainty and consistency, and the outlook is not offering that.
"When consumer sentiment is negative, customers retract and retrench, which exacerbates the situation. In an ideal world, we'll continue to bounce around, but my concern is we fall, then we retract and retrench and therefore the economy just unravels."
"The number one concern across the UK is whether consumers have enough money to live right and pay the bills"

Joe Staton, GfK
Interestingly, it is consumers within the demographics that statistically voted for Brexit in the greatest numbers that are now most concerned about the impact it will have in 2019.
Respondents aged over 55 were the most concerned of any age demographic about the general economy, political situation and their ability to save money in 2019, with 57%, 58% and 40% respectively saying they were less confident in these three metrics than they were a year ago.
Furthermore, although 58% of voters in the Northeast voted to leave the EU, the impact it may have on their finances in 2019 is a key cause for concern.
Respondents from the Northeast were the least confident about their personal finances in 2019 in all geographical regions of the UK, with 52% saying they were less confident about the year ahead than 2018.
Half of respondents from the Northeast were less confident about their ability to make significant purchases, while 60% were less confident about their ability to save in 2019.
It is no surprise that some regions are more concerned than others about certain aspects of 2019, such as 72% of respondents from Northern Ireland being less confident about the political situation next year in comparison with this year.
However, Staton says regional idiosyncrasies aside, people's lack of confidence in their personal finances is an issue across the length and breadth of the UK.
"The government has said it is the end of austerity, but no-one believes it. The number-one concern across the UK is whether consumers have enough money to live right and pay the bills," he says.
"People are being told they are paid more, but they don't feel it. Every penny has to really work for itself and brands and marketers will have to work even harder to attract people into their franchises."
Sector breakdown
When it comes to retail spending, the majority of shoppers expect to spend the same as last year, although 28.9% of those surveyed said they would spend less. This compares with just 17.9% of people who believe they will spend more.
Breaking this down by focusing on predicted consumer spending across three broad channels – in-store, online and mobile – 21.9% of shoppers are anticipating their ecommerce spending will increase next year compared to 2018.
This compares with 17.6% predicting they will spend more in-store than in 2018, and 13.6% anticipating higher spending on their mobile devices.
As online shopping continues to attract consumer spend, "brands are having to go a step beyond a purely transactional experience to complete sales and attract increased customer footfall", says Paul Lyonette, commercial director for UK, DACH and Central Europe at Kelkoo Group.
"In addition to omnichannel opportunities, high street retailers are tapping into the power of emotive marketing, such as luxury brands Burberry and Chanel that provide a multi-sensory shopping experience," he says. "With online sales making up 17.5% of total retail sales during 2018, retailers need to start to rethink their approach to stay relevant."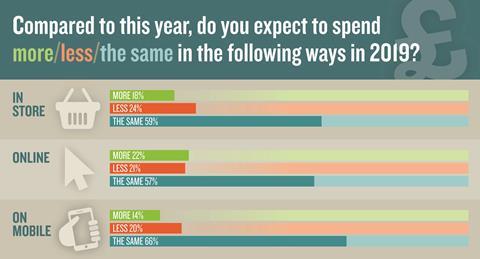 Retail competes with other industries, such as travel, recreation, culture, restaurants and pubs, for a share of consumer spending. It is a similar story in these areas.
The non-retail discretionary category that fared best in terms of consumer spending next year was travel and holidays, with 50.2% of people expecting to spend approximately the same amount year on year and 23.5% expecting to spend more.
However, across health and wellbeing, recreation and culture, and eating and drinking out, just 12.3%, 14.6% and 14.6% of people respectively expected to spend more year on year.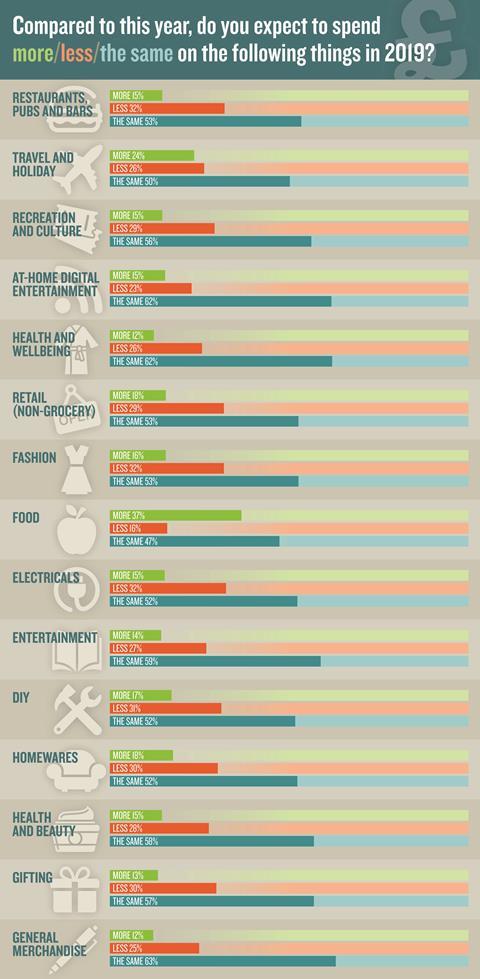 So, which areas of retail will have to fight hardest for consumer spending in 2019, and which will sail through unscathed?
Although 37% of consumers expect to spend more on grocery in 2019, compared with 16% who say they will spend less, discretionary spend is set to for another squeeze.
Electricals and fashion were the two sectors where most consumers expect to spend less next year, with 32% expecting their purchases in both these categories to decline year on year.
While other sectors fared better, there are no categories outside of grocery where the majority of shoppers expect to spend more in 2019 than they have this year.
Furthermore, on average, around double the amount of respondents expected to spend less than those who expected their spend to increase per category.
It is some comfort that across all retail sectors, the majority of shoppers expected to spend the same amount in 2019, with 53% saying they would spend the same on non-grocery products next year.
However, it is to be expected that shoppers' purse strings will be even harder to loosen next year than they were in 2018. Retailers will need to be on top of their game to coax them to part with hard-earned cash.