Global diversity and inclusion leaders can teach retailers a lot about how to drive forward real change in their organisations. Be motivated by their award-winning strategies in Retail Week's new report Diversity DNA.

The business case for diversity is staggering: firms in the top quartile for racially diverse executive teams produced 35% higher EBITDA in comparison with the least diverse, according to research from McKinsey.
Meanwhile, companies with the most gender-diverse executive teams outperformed male-dominated companies by 21% in terms of EBITDA.
Diverse companies were also 70% more likely to capture new markets than businesses that did not actively recruit and support talent from under-represented groups, according to Harvard Business Review.
There are many examples of global D&I leaders that are leading the charge when it comes to driving diversity in their workforce and accelerating real change. In Retail Week's report, Diversity DNA, we zero in on global organisations that are doing just that.
Read the report for free today to find out what you can learn from their active and inclusive approach to leadership.
Below, we focus on two global giants embracing people-powered, award-winning D&I strategies.
Sky
Media company Sky ranked first on the Inclusive Top 50 UK Employers List 2019/20 because of its approach to "empowering every team to understand any inequality and take action".

How can retailers learn from Sky?
Sky operates six volunteer-led employee networks, each with an executive sponsor who guides them to focus on what matters most.
To increase diversity in its tech teams, Sky runs a Get into Tech initiative through which women with little or no previous experience can learn skills necessary to begin a career in technology. As of 2020, 190 people had been through the programme and 40 had taken permanent roles with Sky.
To ingrain inclusivity in company culture, Sky has established a shared D&I intranet site – inclusion@Sky – where employees can find hints and tips on how to actively include people every day, join one of its employee networks, get ideas to bring teams together to run a session on understanding the impact of inclusion on the business, familiarise themselves with unconscious bias and build confidence talking about race.
It has also developed local mentoring programmes through which leaders meet with someone from an ethnic minority background to hear their views about what life at Sky, and life in general, is like.
Sky ran a pilot partnership with women returning to work to attract people with senior experience and a career gap of two or more years on to a six-month paid placement.
Citi Group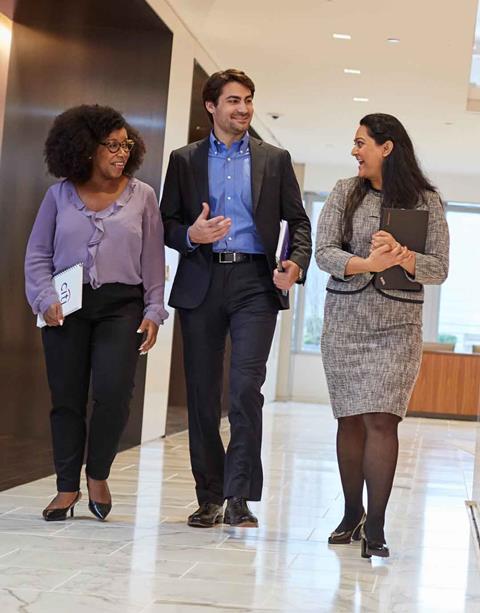 Investment banking firm Citi Group has made D&I in-roads through its 'Affinity' model by bringing together executives from the leadership team to head up 10 demographics of employees that it refers to as 'Affinities'.
These are Asian heritage, Black heritage, Citi Salutes (military veterans), Citi women, Disability (enabling diverse abilities), Generations, Hispanic/Latino heritage, Multicultural, Parents and Pride (LGBTQ+).
How can retailers learn from Citi Group?
Through the Affinity model, senior leaders are responsible for developing a better understanding and appreciation of the uniqueness of each group and are tasked with coming up with ideas and initiatives that will help them "grow, develop and matriculate" through the firm.
Leaders work in tandem with the company's global employees because, while senior-level accountability is critical, "it won't work without the involvement of our broader employee base", Citi says.
One example of a positive outcome from this model is that, following conversations as part of its Disability Affinity, Citi now offers disability etiquette awareness resources.
Diversity DNA: What does the report cover?
Ways to speak out on behalf of marginalised voices and lean into difficult conversations as an ally.
How to minimise the impact of Covid-19 on staff and advancing equitable workplaces.
Exclusive insights from retailers and organisations driving the D&I agenda forward.
Discover the five building blocks to D&I strategy success.
You can find out more about driving diversity and equity across the retail industry by watching sessions from Be Inspired's Virtual Conference on demand here.

Workday is a leading provider of enterprise cloud applications for finance, HR and planning. Founded in 2005, Workday delivers financial management, human capital management and analytics applications designed for the world's largest companies, educational institutions and government agencies. Organisations ranging from medium-sized businesses to Fortune 50 enterprises have selected Workday.