Aldi's relentless quest to tempt middle-class palates gained added bite this week as new data revealed the extent of custom it has swallowed up from the big four.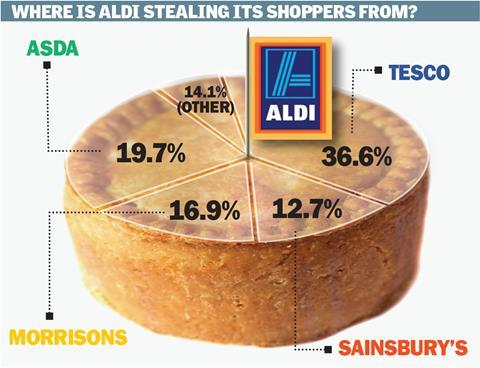 A third of customers using Aldi for their main shop have been lured from rivals, the bulk from the big four. In the last year the German discounter has moved from being a top-up destination to a serious contender for the weekly shop.
Aldi has enticed most shoppers from Tesco - 36.6% of those who switched came from the UK's largest grocer, a report from Verdict has revealed. Nearly 20% were devoured from Asda, 16.9% from Morrisons and 12.7% from Sainsbury's in the last 12 months.
Aldi's astonishing rate of growth is evidenced by the fact its estimated sales are now almost the same as Marks & Spencer's food revenue.
Verdict estimated Aldi will generate sales of £4.65bn in the year to December 31 against M&S's £4.85bn in the year to March.
A combination of cash-strapped shoppers, unique and quality products, low prices and snappy advertising has sparked Britain's love affair with Aldi.
Aldi managing director of buying Tony Baines said: "Once new customers come into stores, they are quickly won over by the quality of our products, causing more and more to turn their backs on the major supermarkets and do their full weekly shop at Aldi."
The German grocer today opens its 500th store in affluent market town Bury St Edmunds, Suffolk, as it attempts to woo more middle-class shoppers. The Verdict research showed 18.6% of Aldi's shoppers are in the AB demographic, up from 12.9% last year.
Verdict senior analyst Andrew Stevens said: "Shoppers have switched to Aldi for price, but have stayed with the retailer due to the high quality of its products."
Nielsen data released last week showed Aldi's sales rose 30% year on year in the 12 weeks to October 12 and it holds a 4.3% market share. Arch-rival Lidl's sales increased 10% in the period and it holds a 3% share.
Lidl has launched its first nationwide TV campaign, which airs today, Retail-week.com revealed yesterday.
Bitter rivalry in the fiercely contested grocery market further intensified this week. Sainsbury's is seeking a judicial review of the Advertising Standards Authority's ruling that rejected its complaints over Tesco's Price Promise.