Latest news, insight and analysis on Fat Face
Fat Face is a sports and lifestyle clothing retailer. Sales growth slowed sharply over 2009/10 and profits plummeted. Following a much improved performance in 2010/11, momentum was maintained in 2011/12 with sales ahead by 7.3% to £163.5m and the operating margin improving to 7.3%.
Apart from Argos and Tesco, August was a predictably low-key month in the retail jobs market as attention turned to school holidays and summer vacations.
Fashion retailer JD Sports shocked the City last Friday afternoon with a brief announcement that long-standing chief executive Barry Bown was to depart with immediate effect.
Full company profile for Fat Face, including: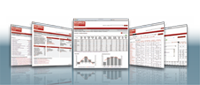 Powered by: