Latest news, insight and analysis on Next
Next is one of the UK's largest specialist clothing retailers. With 500+ UK stores in 2012, recent domestic expansion has focused on the stand-alone Home superstore format. Next Brand sales remained static at £3.3bn in 2011/12 as declining sales across the retail network continue to be offset by strong growth within the Directory – now accounting for almost a third of group sales and 44% of operating profits.
Smooth delivery options are front of mind for retailers because customer expectations are sky high. It is vital supply chains are as watertight as possible.
Next boss Lord Wolfson's decision to share a £2.4m bonus with staff was not only eye-catching, it caught the mood of the times too.
Full company profile for Next, including: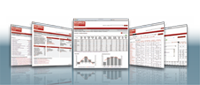 Powered by: