The road to Westfield Stratford City has been a long one and owing to its unique situation, it has been more problematic than usual. But how have retailers, shopfitters and the developer dealt with creating a mega mall from scratch? John Ryan reports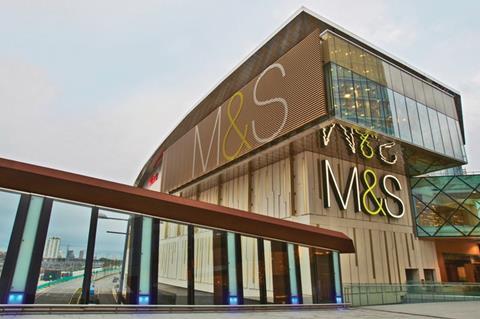 Arrive by any of the several methods of transport at Westfield Stratford City and you'd be hard pushed not to see what all the fuss is about. The structure itself dominates the view and with a deliberately rusted steel and glass bridge and large elements of faded gold across the facade, not to mention the sheer scale of the enterprise, it would take a particularly jaded individual to remain unimpressed.
Depending on the aspect you are looking at, there will be some familiar logos, including the red Westfield sign and outsize logos for Marks & Spencer, Waitrose and John Lewis, which are all visible on the exterior.
These anchor tenants provide a taste of what lies within the £1.45bn scheme. A quick look at the tenant roster, with names such as Forever 21, Next, Uniqlo, Superdry, Primark and Timberland, among the 300 or so that have signed on the dotted line, shows that it has attracted hardy high street perennials and retail incomers alike.
And ostensibly, the reason for this proving such a magnet, even in these troubled times, is simple – this is 1.9 million sq ft of retail and leisure and is likely to be the last of its kind in this country for the foreseeable future. Nonetheless, it is in Stratford, somewhat different, in terms of the affluence of the surrounding hinterland, from Westfield London and environs.
As an area, Stratford is not wealthy, but may yet regenerate as retailers in this scheme put their best store design feet forward in anticipation of the crowds that will pass through in the run-up to the 2012 Olympics. The Games site is, of course, directly behind Westfield Stratford City, which accounts for the roads, rails and underground lines that all converge in front and alongside the mall.
The shopfitter's story
For those looking in on Westfield Stratford City from the outside, the major preoccupation is which shops have taken space and what will they look like. The route to this stage, however, is every bit as important as the finished store product and boils down to the good offices of the many shopfitters that fill the centre weeks before there is a sniff of product being delivered to the shops.
And this scheme presents a number of challenges that, while they may not be unique, make getting things done more than usually difficult. For starters, the centre is cheek by jowl with the Olympic site. Ultimately, this is what Westfield Stratford City is banking on as a sales accelerator for retailers taking space, but in the meantime, it means security, and health and safety is even more stringent than usual.
Simon Campbell, managing director at shopfitter Portview, which has worked on six stores in the centre (HMV, Geox, Swatch, Uniqlo, Omega and a multi-brand site for Arcadia), says that things have not been easy: "There's the three-hour induction for everybody working at Westfield and, of course, there are the usual time pressures that you have with any job. But the Stratford site has its own problems. Inside the mall there are no boosters, so it's been almost a mobile-free zone when you get in there. We've overcome this by using walkie talkies, but you have to be prepared."
He adds: "Then there has been the matter of deliveries. There's been a requirement to book a delivery to the centre online, three days ahead of the drop. For shopping centre construction, this puts it pretty much at the extreme of things. There's a holding site up in Barking [nearly five miles away] where trucks are checked and if there's a seal that has been tampered with, a delivery is turned away and then you have to book a new slot. In fairness, once you understand the system, it works reasonably well."
This may sound onerous overall, but security has to be tight with the Olympics a little over 10 months away. Campbell comments: "Space has been an issue in terms of where we work. We've not had much room to store things as we work on the stores and where we've sealed up voids, we've had to take photographs to check that there are no bombs ticking away in there that could go off as the Games begin."
He also cites the red card/yellow card system for health and safety. Three yellows for breaches of the code leads to a red card and this may then be followed by a total ban from the site.
Standing a few weeks ago on the route that had been set aside for those wishing to visit the John Lewis store, it was easy to understand what might be sensed as Campbell's (and others like him) frustrations at Westfield Stratford City's delivery and security processes. There was a long line of trucks waiting to make a delivery, each destined for a different unit, some with equipment, while others were bearing the initial trickle of stock destined to fill the retailers' shelves.
Nonetheless, upon retracing the path following a one-hour sojourn in an empty John Lewis, all of the deliveries that were waiting to be made had been dealt with. The system seemed to work and get things where they needed to be in a matter of minutes, rather than hours.
The developer
All of the shopfitters working on their various projects at Stratford have had to operate within the confines set by the mall developer itself. Westfield director of operations for the UK Bill Giouroukos says the scope of what has been done is enormous: "From a delivery point of view, we've got an enormous number of retailers to get through, not only from the perspective of the construction and shopfitting, but also from the point of view of getting stock into the shops."
Giouroukos says the modus operandi for retailers has been very clear from the start: "We set the vision, get the pre-planning done, set the controls and then work in partnership with the retailers."
For those at the receiving end of this highly considered approach, Giouroukos says there are a few additional items to be dealt with. Firstly, there is the size of the operation and then there is the physical shape of the building, which does not necessarily lend itself to a straightforward in-out delivery schedule, owing to access points. "From the outset therefore, people have known they're in a special place. There's a [retail] delivery handbook that forms part of the heads of terms. In this, we set expectations and how things will be handled by the retail delivery team," says Giouroukos.
This 'team' splits into two parts. There is a retail design team, whose job it is to work with retailers to help them deal with some of the practical details of making the design vision a reality and then there is a project management team, who will help to cope with some of the inevitable process and problem-busting queries that may arise.
The project management side of things is particularly important if you happen to be a small retailer that has opted to take a unit in the mall. Giouroukos says that one of the more expensive items a retailer has to pay for when equipping a unit is the glazing of the shopfront. "We can help with this because we have the purchasing power, which the smaller operators haven't," he says. Procurement is therefore an issue that Giouroukos and his team can help with and that can make a real difference to the total cost of a fit-out.
But what has Giouroukos had to manage that has fallen beyond the obvious process-driven remit? The prevailing economy has played a major role, he says. When Westfield Stratford City first appeared on the drawing board, nobody anywhere would have had a sense of an impending global recession. This has meant not just that costs have come under close(r) scrutiny over time, but that retailers have had to be encouraged to dig deep to maintain the integrity of the original intention for the mall.
"There has been a tendency for people [retailers] to want to pull back on expenditure in these tough economic times," says Giouroukos. He mentions the "iconic" nature of the scheme and says that for this to work, retailers have had to play their part as well. And it would appear that this appeal has not fallen on deaf ears, with H&M and Zara, among others, as well as the anchor stores, all opting to create flagships for the location.
There is also the problem of lead-time. Read the press releases about the leasing process and in a number of high-profile instances, Inditex (which only signed for a trio of stores at the back end of July) being a case in point, things have gone somewhat towards the wire. This has meant a scramble to get the shops ready for the September 13 opening date, but Giouroukos and team do seem to have pulled it off.
It is only natural in a project of this size and given the prevailing economic headwinds that this should be the case, but Westfield Stratford City does appear to have had more to deal with than others might have done in the past.
A new departure?
Assuming therefore that the shopfitters and designers have done their thing and that the retailers manage to get the right stock in at the right time, does Westfield Stratford City represent a step forward for UK shopping and is this really a new beginning for the area?
The answer would seem to be a qualified yes. Qualified because until the Olympic fest is out of the way, by mid-August next year, it will be hard to assess the long-term prospects for retailers and how trade will settle down. Like Westfield London, this is a project that has cost an eye-watering amount of money to build, and those retailers that have taken space have thrown money at it to ensure they get the most from their investment in east London's future.
Initially, Westfield London had its detractors and scare stories circulated about the effect that it would have on both the West End and Kensington High Street. In the event, none of this turned out to be the case and Westfield London is now a destination in the same way as Oxford Street or Regent Street.
All of the area beyond the City or, at a stretch, Spitalfields and on out to Stratford, has long been a byword for privation. For retailers, activity has been principally confined to a few very large supermarkets until you get to either Romford or Lakeside (the retail park at Beckton notwithstanding). The arrival of a mega mall in the area is therefore due a cautious welcome, although it's a racing certainty that both Lakeside and, to an extent, Bluewater will be looking over their respective shoulders at the way things develop.
This is the end of a mega mall development era and ahead of us the next landmark of any scale will be the Trinity Leeds scheme from Land Securities, which is not due for completion until spring 2013. Westfield's Stratford City mall is in a class of its own, however.
It does seem improbable that we will see the like of a project on this scale, or with the combination of problems that have been encountered, again. And the task that lies ahead for retailers and Stratford City alike is no small one, but on the evidence to date, expect this one to be a permanent fixture on the London shopping map. All it needs now is the support of the shopping public and a modest improvement in the economy as a whole.