H&M is resolved to prove that low-priced fashion can still be green. Gemma Goldfingle interviews UK managing director Magnus Olsson to find out why the retailer is on a mission to improve its eco-image.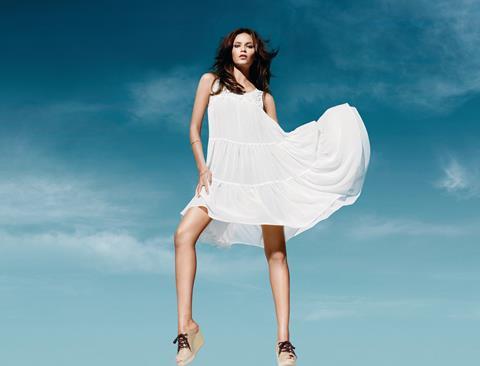 H&M Conscious seven-point sustainability plan
Provide fashion for conscious customers The retailer is aiming to make products with an added sustainability value to enable its climate-savvy customers to make more informed choices.
Choose and reward responsible partners H&M says it will reward suppliers that share its commitment to sustainable practices. It carried out 1,938 audits across its 1,700 factories last year.
Be ethical It is committed to acting with integrity and respect to its customers, employees and suppliers taking a clear stand against corruption and discrimination.
Be climate smart It is striving to be as energy efficient as possible and wants to reduce its energy use by 20%, from 2007 levels, by 2020.
Reduce, reuse and recycle H&M is aiming for zero waste to go to landfill. All bags are now made from recycled materials.
Use natural resources responsibly It is looking at ways to ensure the conservation of water, soil, air and animal species in the manufacture of its clothing. One way it is saving water in the supply chain, for instance, is by backing the Better Cotton Initiative, which promotes farming that reduces water use.
Strengthen communities The retailer will contribute to the development of the communities where H&M operates by investing in local initiatives. In 2010, it ploughed $4.6m (£2.8m) into community projects.
When H&M launched its sustainable fashion collection, Conscious, last month it was more than just a concept designed to grab headlines; it was a statement of intent for the fashion chain's new ideology. The eco-range is the first step in the Swedish fashion giant's plan to become a sustainable retailer.
"With size comes responsibility," H&M UK managing director Magnus Olsson tells Retail Week. "We have a duty as a global retailer."
But the move is borne out of more than just a sense of duty. While H&M's typical shoppers like a bargain and are price conscious, Olsson says they are also becoming increasingly interested in ethical sourcing: "Customers are becoming savvier and want to know how their clothes are made. We're responding to demand."
"Marks & Spencer has its Plan A, this is our Plan H"

Magnus Olsson, H&M
Going organic
H&M is not new to eco-fashion. In 1995, the retailer launched an organic cotton collection called Nature Calling, but the garments were largely uncoloured and sales quickly tapered off. Years later in 2004, the retailer started integrating organic cotton into selected garments again, testing ways to use the material without compromising on design. But it was last year's Garden collection that proved using organic and recycled materials can really drive sales and stimulate commercial success.
The Conscious collection is here to stay; anything that is sustainably sourced will be tagged with a Conscious label. However, the eco-fashion range is just the starting point. The retailer has vowed that all its cotton will come from sustainable sources by 2020 as part of its seven-step sustainability plan, H&M Conscious. The plan focuses on reducing its energy consumption, minimising waste to landfill and using more sustainable raw materials.
"Marks & Spencer has its Plan A, this is our Plan H," jokes Olsson. "We are doing what we can to make sure the clothes we offer have been made, transported and sold responsibly."
While being a greener company is important for environmental reasons, Olsson says it's not just about saving the world. Sustainable retailing is a way of adding value for customers at a time where trading is tough: "Disposable income is low, retailers have to make sure they have the best offer.
Customers are savvy with both price and quality - and quality includes how it is produced. Sourcing sustainably adds value for them."
He believes that keeping organic cotton items the same price as standard garments, as it has in its Conscious collection, will give the retailer "a competitive edge".
"Customers expect organic cotton to be more expensive but this collection proves it doesn't have to be. They appreciate it when it doesn't cost more," he explains.
To keep costs low, H&M's sourcing team has focused on pre-booking supply, using its growing volumes to negotiate rates. The retailer is already one of the world's largest users of organic cotton and it is growing its usage each year. It plans to increase its usage by 50% per annum for the next two years. It is also ramping up the use of recycled materials. The Conscious collection features recycled cotton, wool and Tensel, a silk-like renewable material made from plant matter, which Olsson believes will play a greater role in clothing production in the future. Another of its eco-strategies is to produce garments from a range of innovative materials. These include recycled polyester jumpers made from PET bottles and jewellery made from recycled polyamide, sourced from old fishing nets.
As H&M does not have any direct influence on raw material production it is also working to improve traceability within its supply chain. It carries out more than 2,000 audits within its supply chain each year and is trialling a new software system with six suppliers in Bangladesh and China, which requires suppliers to input data on how much material, fabric or finished pieces are passed on to the tier of supply.
The trial, which began in November, ends in May - by which time the retailer will decide whether to roll it out across more factories.
The retailer says the price of a product is no indication of the working conditions of the people who produce it. H&M is committed to improving conditions in its factories but rather than just monitoring standards it wants its suppliers to take ownership for ensuring good working conditions.
H&M is also training management within its suppliers on what are acceptable working standards and is working with NGOs to educate workers on what their basic rights are.
Planning ahead
Like M&S, the Swedish retailer also has rigid targets for reducing energy usage. By last year, it had already reduced in-store energy use by 8% since 2007, and it plans to get this figure to 20% by 2020. "It's simple measures like using timers on lights that make a difference," says Olsson. By simply installing dimmer switches on its display lighting the retailer has reduced CO2 emissions by 1,400 tonnes in 2010.
There are other goals to achieve by 2020, too. The fashion giant is striving to source at least 20% of its energy from renewable energy sources by then. H&M points to the installation of solar panels into its two main European distribution centres as one of the many ways it plans to achieve that.
"Sourcing sustainably adds value for customers"

Magnus Olsson, H&M
Transport emissions is another area of concern, accounting for 43% of the retailer's total greenhouse gas emissions. The recession has not helped. Last year, its transport emissions shot up by 31%. H&M attributes this to the fact that many freight suppliers were driven out of the market during the recession when freight costs plummeted in the wake of the financial crisis. As a result, the fast-fashion retailer found itself having to rely more on costly and less carbon efficient air freight.
Now though, it is determined to redress this and is in the process of shifting to more environmentally sound transport methods. Within Europe, for instance, it is moving from road to rail when transporting goods from Turkey, one of its big sourcing markets. Last year more than a third of the goods destined for its UK stores came via rail. The previous year, rail wasn't used at all.
Through its seven-point plan, Olsson believes H&M can break the myth that value retail businesses cannot be sustainable and are uninterested in being ethical. It wants to show to the world that just because it's a fast-fashion chain, doesn't mean it can't be a green one, too.
The Sustainable Apparel Coalition
H&M is one of the founding members of the Sustainable Apparel Coalition, which is developing a common approach for measuring and evaluating sustainability performance of clothing.
The group is developing an industry-wide measurement to evaluate sustainability throughout the entire lifecycle of a garment from materials, manufacturing and packaging to transportation and sale. It is due to be trialled this year.
Initial plans will help all retailers involved in the coalition - which includes Gap, M&S and Nike - to share best practice but it is expected to stimulate the development and use of universal clothing labels, which will show consumers how each item of clothing they buy impacts the environment.