For many years the Oxford Summer School has developed middle management retail talent. Now it is widening its remit to nurture the careers of fledgling managers too, Liz Morrell reports.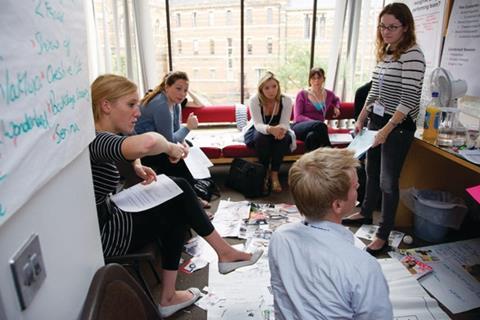 The Oxford Summer School has long been an important event in the training calendar for retailers, providing as it does an intensive nurturing ground for developing retail talent.
After the decision this year to split the traditional school into three strands, the range of teaching is to become more important than ever keen for retailers to create the leaders of tomorrow.
Matalan chief executive Darren Blackhurst says the school provides an invaluable training resource for retailers, and the hope is that the new structure will help to improve that further.
"We have found, over the past number of years, that the Oxford Summer School has helped us to develop our talent very effectively – indeed many of those who attend go on to bigger roles within the business. It's a great way for a business like ours to develop leaders for the future," he says.
Instead of one big learning stream, the school now consists of the Foundation School, which targets managers early in their careers, the Academy School, which targets middle management, and the Oxford Retail Masters programme, which targets senior and board level directors, and which is due to launch next year.
Thirst for self-development
The Foundation School will follow a similar pattern to the traditional Oxford Summer School programme. It takes place as a five-day residential training course at Keble College in Oxford from July 9 to 13, but will target retailers at an earlier stage of their careers than the traditional programme that was aimed mainly at middle management.
Dominic Prendergast, managing director of the Oxford Summer School, who formerly worked at Thorntons and Jessops, says the new stream was needed to cope with the growing numbers of managers who come to the school early on in their careers.
"Through these three schools we can now take retailers from trainee to the boardroom," he maintains. Prendergast says the idea of the new Foundation School was born after the Oxford Summer School realised an increasing number of retail staff want to improve their chances in their careers earlier on – especially in a difficult market. "There is a thirst for self-development. People know if they are going to proceed with their careers they have to take ownership," he says.
But the principles of the school remain as important as ever, he says. "The original objective of the Oxford Summer School in 1923 was to ensure we retained and developed the future leaders of our sector rather than lose them to other industries," says Prendergast. Today he says that hasn't changed and the new three-strand approach will help it to better achieve its aims.
Although leadership is a key theme of all three schools, Prendergast says coaching and leadership are most important within the Foundation School, because it will be focused heavily on development of staff. "The school is all about the people aspect and the skills you require to manage people," he says.
Confidence to excel
The programme for the Foundation School – which comprises setting objectives, coaching and managing the performance of a team – has been put together by former Thorntons director Tracey West, who spent 16 years in the retail sector before moving to training and development company Leading Edge.
She says giving staff the confidence to excel earlier in their careers will stand retailers in good stead for the future, adding there is a real need for guidance for staff feeling out of their depth in their early managerial roles. "What I felt it really needed was space for the first appointment manager to understand what is required to lead a team to success," she explains.
She adds many new managers don't feel prepared for the role. "What tends to happen is you are promoted to your first manager's position based on your success or talent in a particular technical ability but when you arrive as a manager no one really tells you how complex it becomes. How do you achieve the same success when there is a team of unique individuals to motivate and communicate with?" she says.
With demand for basic management skills rising, the Foundation School training programme was developed to ensure staff are better prepared and able to cope with such challenges. "The purpose of this programme is to build confidence and competence in the retail manager and enable delegates to gain a deeper understanding of their role within the business," says West.
It also helps them develop the skills needed for making sure teams hit targets. The Academy School, meanwhile, will continue to focus on its traditional prospectus of retail skills training, including merchandising and other operational aspects of retail.
Neil Phillips, deputy store manager of Marks & Spencer at Bristol's Cribbs Causeway, is chairman of the Foundation School. He says the school will be useful for retailers of all sizes, offering something different to the sort of training retailers can offer in-house because of the scale and range of talent and experience it brings together in one place. "At M&S we could bring in a speaker but to bring in four different speakers on four different nights – we couldn't do that. The delegates just soak it up," he says.
At a practical level the Foundation School will run in a similar format to the traditional Academy school. Delegates are split into discussion groups of eight or nine students that encompass a range of retailers and retail backgrounds, and are headed by individual group directors.
Prendergast says this is another benefit of the school. National retailers can mix with talented staff from small independents too – last year, independents made up 11% of the delegation. Prendergast insists there are lessons to learn from everyone. "The power is mixing with other companies big and small," says Prendergast. And as ever, the focus is on running an event for retailers, by retailers.
Blackhurst says the new school will help younger managers develop. "The Foundation School is a great development for all concerned and will undoubtedly help a new generation develop their skill base and fulfil their potential," he says.
As the retail market goes through one of its toughest periods – and with the shape of the industry continuing to change at a rapid rate – developing that next generation of retail leaders is more important than ever.
The new Foundation School
The school is aimed at first appointment store managers, head office department managers, large store department managers and supervisors who are in line for promotion within six months
The school aims to
Identify individual leadership style and the impact it has on others
Distinguish the difference between the skills of performance and the skills of leading the performance of others
Improve personal effectiveness in order to prioritise and achieve business objectives more effectively
Engage through presentations and department briefs that energise and inspire
Define what is expected from a team so they can work without supervision and achieve high performance
Develop skills to interview and select the best people
Look at ways to increase sales through service
Consider customers' changing expectations