Our list of the fastest-growing retailers in the UK highlights businesses that are not only increasing the scale of their operations, but are also doing so profitably.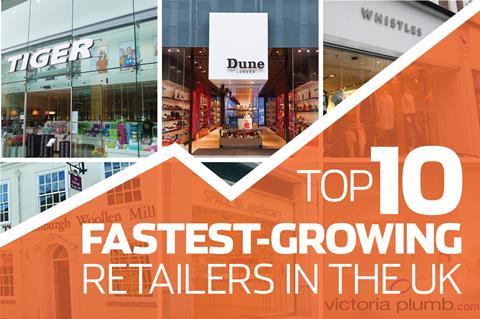 The fourth AlixPartners Growth Retailer Report highlights the achievements of those UK retailers that have excelled at increasing profits in the past year.
Their successes are all the more impressive given today's challenging backdrop of margin-eroding discounting, promotion and sales – not to mention a consumer discount psyche that's proving difficult to budge.
"Recent results have shown that Shop Direct has made huge strides in its transformation into a digital retailer."
These are the 10 outstanding retailers whose omnichannel offering, innovative use of stores, clever deployment of emerging technology and international strategies puts them head and shoulders above the competition.
This year's top 10 fastest-growing retailers list features just two retailers from last year's line-up, and eight brand new entries, demonstrating the speed of change, improvement and innovation in a highly competitive retail market.
A unifying theme across these businesses is that they are in tune with their core customer. As Chris Brook-Carter, Retail Week's editor in chief, says: "While 2015 was a year that the retail sector was expected to benefit from rising disposable income and consumer confidence, trading conditions have yet to fully reflect this. The retailers in this research report stand out from their peers by having a clear understanding of their customer base, but also how best to meet their needs in a fast-moving consumer landscape."
1. Shop Direct
Shop Direct's rapid transformation from traditional catalogue business to world-class digital retailer has propelled it into top position. Following the cull of its last remaining catalogues in 2015, the group has become 100% digital with web traffic breaking 1 million per day during the most recent financial year.
Recent results have shown that Shop Direct has made huge strides in its transformation into a digital retailer. The group reported that sales of its retail activities – which excludes its Yodel fulfilment business – increased by 2.6% to approaching £1.3 billion in the year to June 2015. Mobile is also rising in significance, accounting for 54% of sales during 2014-15.
The retail business reported a significant improvement in profitability over 2014-15. Over the year, pre-tax profit increased by 75% to £56.3 million, driven by investment in big data and personalisation.
2. Savers Health and Beauty
The health and beauty retailer's key operational improvements have driven profits and allowed it to fend off stiff competition from discount store retailers to enter the Growth Retailer report at number two.
Costs are kept low by operating in secondary sites with lower rents, and profitability has been further boosted by strengthening relationships with suppliers in order to gain access to lower prices, as well as investing in the IT infrastructure to improve in-store product availability.
The repositioning of Savers in the market and the expansion of its product range has been reflected in its financials. In its latest accounts for the year to December 2014, Savers reported that its sales increased by an exceptionally strong 21.6% to £299.9 million. This growth was also boosted by the addition of 46 new stores, taking its store network to just under 300.
3. Gemporia (The Colourful Company Group)
Top 10 newcomer Gemporia sells through three TV channels as well as the Gemporia ecommerce site. The Gemporia brand has become its main focus and in December 2015 the company rebranded the Rocks TV channel as Gemporia. It has since also started selling a collection of gemstones under the Gemporia brand in House of Fraser stores.
The company's newfound success has been reflected in its financial performance. Turnover has grown rapidly, having recently broken through the £100 million barrier. This compares with sales of £54.4 million under its first full year back under the ownership of founder Steve Bennett.
During the year to March 2015, sales increased by 7.5% to £107.1 million on which it made a pre-tax profit of £8.4 million, up from £3.2 million in the previous year. The company therefore achieves healthy profit margins, which is impressive given that it operates its own broadcasting facility, call centre and warehouse operation in Redditch, where it is one of the largest employers in the area.
4. Edinburgh Woollen Mill
Edinburgh Woollen Mill retains its spot in the Growth Retailer top five for a second consecutive year.
The group reported that its sales increased by 1.9% to £562.6 million in the year to February 2015, placing it just inside the top 50 largest UK retailers by sales. During the year, it said that like-for-like sales had been "positive" at the EWM fascia as it benefited from growth in foreign visitors to UK tourist sites as well as the expanding over-40s market. However, overall sales fell slightly due to the closure of a number of underperforming stores.
Meanwhile, Peacocks, which EWM bought out of administration in early 2012, experienced an exceptionally strong year, with sales increasing by 8% to £351.7 million. This business accounted for 62.5% of group sales, clearly benefiting from the £150 million investment it has received since being bought out of administration in 2012.
5. Tiger
Tiger's success is reflected in its recent financial performance. Tiger's latest accounts for the year to December 2014 show that its turnover increased by 44.1% to £30.7 million. While sales benefited from the addition of six new stores, the business would also have achieved exceptionally high like-for-like sales growth, although it does not disclose any specific figures.
Tiger Retail's expansion has not come at the expense of profitability and its pre-tax profit doubled to £4.8 million in 2014. This gives it a pre-tax profit margin of 15.6%, which can be considered a high level for a business that operates in the value end of the market.
Philip Bier, a Dane who brought Tiger to the UK in 2005, is confident the retailer will be able to maintain momentum in the UK over the coming years. In 2014 he told Retail Week: "If you had said to me in 2005 that I would have 26 stores and 400 employees and a store on Oxford Street, I would have said 'what planet are you on?' But what is interesting about expectations is that you just move the goalposts all the time. Now, if you said that in a few years I might have a thousand employees and EBITDA of £15 million, I would say 'yeah, probably'."
6. Dune
Global network expansion has seen a surge in sales for specialist footwear retailer Dune. It currently trades through 41 standalone eponymous stores in the UK as well as 139 concessions in department stores such as John Lewis, Debenhams and Selfridges. The business also operates all footwear departments in House of Fraser stores and has recently focused on opening at travel terminals such as Gatwick airport and St Pancras station.
Globally, Dune currently operates more than 100 international outlets covering the Middle East, South Africa, the Philippines and India – mainly operated by franchisees. Closer to home, there has been a move into company-owned concessions in premium department stores such as De Bijenkorf in the Netherlands, Karstadt in Germany and Magasin du Nord in Denmark, while there are also single stand-alone stores in Estonia and Switzerland.
Despite investing in expansion, Dune has reported a set of solid financial results in recent years. The footwear retailer revealed that its sales increased by 9.1% to £174 million in the year to January 2015 as it benefited from new stores but also "large sales increases" through the ecommerce and click-and-collect channels. Over the year, its pre-tax profit nearly doubled to £6.6 million.
7. Victoria Plum.com
Online bathroom retailer, VictoriaPlum, uses private equity funding to step up business investment to drive growth, and makes its debut in the Growth Retailer top 10.
Following a change of ownership in April 2014, investment in the business has stepped up, it moved into a new 277,000 sq ft distribution centre, the product range has extended to include bedroom furniture and it has embarked on a recruitment drive, adding new roles such as a chief marketing officer and pay-per-click advertising analysts.
Crucially, the website was relaunched when it rebranded as VictoriaPlum in 2015, which has enabled it to offer a faster and easier shopping journey for customers – regardless of whether they visit the site through mobile devices or desktop computers.
VictoriaPlum's approach has resonated with its customers, as evidenced by its impressive sales growth in recent years. It reported that its sales increased by 34.4% to £72.3 million in the year to February 2015. This compares with sales of just £9 million in 2009-10, while its revenues have nearly tripled over the past three years alone.
8. Space NK
During the year to March 2015, health and beauty retailer Space NK saw its sales increase by 13.8% to £79.8 million. The vast majority of this turnover is still generated by its UK stores, which achieved sales of £71.4 million, with the remainder coming from outside the UK. Internationally, sales are generated through its retail network in the US, but there is also a small element of wholesale.
Meanwhile, the retailer's pre-tax profit nearly doubled to £4.4 million in 2014-15, up from £2.4 million in the previous year. It said that the main driver for this improvement had been its strong trading over the year.
Looking ahead, Space NK is expecting to see a continued improvement in sales and profitability across the group in the current 2015-16 financial year.
9. Mint Velvet
The women's clothing, footwear and accessories retailer has achieved impressive sales growth in recent years, with turnover increasing by 31% to £63.1 million in its latest financial year to April 2015. Over the period, the business reported an operating profit of £10.8 million, which gives it a healthy margin of close to 17% – among the highest in the fashion sector.
Alongside its standalone stores, concessions also remain an important sales channel. At the end of 2015, the business traded through 92 concessions in John Lewis, House of Fraser and Fenwick stores, and this channel accounted for nearly half of its overall sales in 2014-15.
Online sales have grown rapidly and accounted for a significant 32.3% of turnover last year. In recent years, its ecommerce has benefited from the launch of dedicated websites for key international markets such as France, Germany and Spain. 2015 also saw the retailer open its first standalone international stores outside of the British Isles in Dubai and Switzerland. These complement its concessions in premium department stores in the Netherlands, Ireland and Singapore.
10. Whistles
Luxury fashion brand Whistles has made its third consecutive appearance in the Growth Retailer top 10 as it continues to grow its presence – both in the UK and abroad.
Sales have continued to grow in recent years and the move into a completely new area through the launch of a menswear range at the end of 2014 underlines Whistles' newfound confidence. The business reported a turnover increase of 15% to £56.7 million in the year to January 2014, on which it made a pre-tax profit of £1.9 million. Momentum has been maintained subsequently, with the retailer announcing that its sales increased by a further 11.1% to just under £63 million in 2014-15.
International expansion has become a priority for Whistles recently. During its latest financial year, the retailer generated 9% of its sales abroad, and it is expected that this proportion will continue to increase.
The fashion retailer's online performance has been described as "outstanding" in recent years and ecommerce is estimated to account for just over 20% of overall sales – around £12.5 million during the year to January 2015. Whistles delivers throughout the world from its UK website and is using the online business to gauge demand for the brand in key markets. International customers currently account for around 20% of its online sales.