Localising the product mix can enable retailers to tap into customers' particular sense of taste, but how can this be achieved with economies of scale and profit in mind? Liz Morrell reports.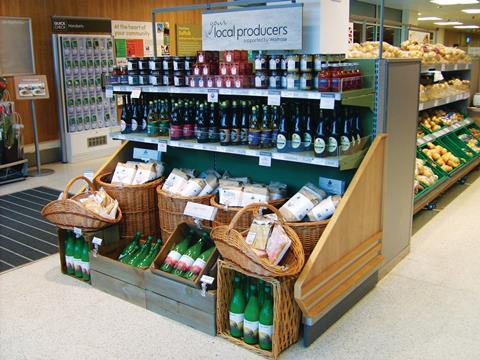 Benefits of localising the product mix
Get closer to customer
It helps increase sales
It helps differentiate you from rivals
It provides a greater feeling of community
It helps to increase customer loyalty
It can open up new supplier bases, that in turn helps small suppliers grow into national brands
Standing out from the crowd has never been more important. As retailers look to differentiate themselves from the competition and get closer to their customers, many are turning to localising the product in their stores to suit local demographics.
Such a strategy not only helps to lift sales but also generates loyalty, if done well. And therein lies the challenge. So which retailers are able to effectively adapt their product for local markets?
By and large, the grocers have led the trend, with local sourcing playing a pivotal role in providing a localised product offer. "Many customers want to buy regionally sourced food that reflects local tastes and traditions and, in turn, this helps support local economies," says a Sainsbury's spokeswoman.
A perfect example of product localisation from Asda comes in the form of its 'Vote Rebecca' biscuits, which it stocked in stores around Merseyside in homage to The X Factor finalist - and Liverpudlian - Rebecca Ferguson.
However, grocers are not the only ones who can localise product mixes to their advantage. Kurt Salmon senior partner Richard Traish says that the operating model for most retailers' stores can be improved to better match the local demographic and local environment. In fact, many stores are underperforming by as much as 25% and one way to combat that is by localising the product mix, he says.
In theory, Traish says this strategy can work for all retailers, although it naturally suits some sectors more than others. "It clearly works well where you have very marked differences in category mixes and where there are a lot of different line options within a range," he says.
For that reason, general merchandisers are following the lead of the grocers with a number currently piloting product localisation in their stores - Superdrug and Wilkinson are among them.
"We are passionate about local and we have seen more and more customers talking about it"

Diana Hunter, Waitrose
Are you local?
Waterstone's has adopted a localisation strategy for some time. Head of range Fiona Kennedy says that a challenge for most national retailers is to find the optimum balance between recognising local nuances and capitalising on the benefits of operating as a group. She says that the bookseller is more "decentralised" than most other high street retailers, with individual managers having more local influence than their equivalents in other sectors.
The principle upon which Waterstone's works is to provide a core of central activity that is then embellished locally. "The central activity comprises promotions - offers on the biggest books that can then be supported with national advertising supporting a consistent offer - and a core of essential range titles," she explains.
Traish says this principle can work in a number of sectors from fashion to electronics. In the US it is widely adopted - not least because the scale of the country means that shopper habits and tastes can differ enormously from one state to another.
He says about 80% of retailers have either adopted or are piloting product localisation. In the US, electronics giant Best Buy has done so to great effect, and has adopted this strategy with its UK model. Commercial director Bud Beers says it conducts regular consumer insight and uses the findings to "constantly adapt its product offerings in our stores and online".
Close communication with customers at a local level is essential if product localisation is to be done well. Asda head of emerging markets CJ Antal-Smith says the grocer conducts extensive customer research with its 'Pulse of the Nation' weekly poll as well as local research such as customer focus groups. The same is true at Waterstone's.
Kennedy says that management information systems tell the bookseller which titles are selling where, and provide a picture of which titles are common to all stores and which titles are only important in some areas. However, it also uses customer feedback - either from official market research, anecdotal feedback from managers or booksellers, or customers' suggestions. "Culturally, Waterstone's is highly consultative, so there's plenty of opportunity for managers to feed back their opinions or those of their customers," says Kennedy.
Such reliance means that having good store managers is essential because head office is relying more on the viewpoint of the manager and what they think should be in-store. Kennedy points out that if localisation is important to a retailer's business strategy then a higher degree of local autonomy is needed. It has to be supported with the provision of training and objectives so that local decisions are as financially robust as central decisions are.
The challenges
It requires detailed management and good analytics
It is harder to manage than a centralised approach
There are logistical challenges in terms of deliveries; for instance the same amount of paperwork is required for one small delivery from a supplier with a handful of products as it is for a large lorry from a distribution centre
It can be time consuming and more costly
Traish suggests that retailers design central planograms with optional variances that they can adapt to suit their local market. "Then you are giving the store manager options, but in a controlled environment," he says.
But the strategy brings logistical challenges, too. Waitrose is also a huge advocate of localisation and even allows suppliers to do direct deliveries to stores but it's not something that will work for all retailers. Such an approach has a major impact on logistics - direct-to-store deliveries require a huge amount of time in relation to the amount of product that is delivered. The paperwork is the same for local suppliers as a big truck from the distribution centre, and so you start to add an enormous amount of work for staff back of store. For this reason, some retailers such as Asda have local supplier hubs that consolidate local products for delivery to store.
A passion for local
Waitrose director of store development Diana Hunter says that while localisation certainly adds complexity, the advantages outweigh the challenges. "We are absolutely passionate about local and we have seen more and more customers are talking about it."
"We are absolutely passionate about local and we have seen more and more customers are talking about it."

Diana Hunter
She explains that Waitrose carried out extensive research when it did its development for its market town stores. Among the findings was that shoppers wanted local products and wanted stores to feel part of community. Customers also wanted to see store managers that stayed in their roles. "They want a relationship with their manager and want to know we are going to support local businesses and suppliers."
Most believe the trend is here to stay. "It seems to be a real drive coming from the customer," says Hunter. Antal-Smith agrees: "Feeling that the store understands your personal needs is key to gaining a customer's trust," she says, "it's something that will continue to grow. It's about getting in among the community," she says.
So as retailers continue to fight for customers' spend, and at the same time look internationally for growth opportunities, the expression 'think global, act local' has never been more apt.