Last week Tesco snapped up restaurant chain Giraffe. So what are its plans for the group, and are more acquisitions on the cards?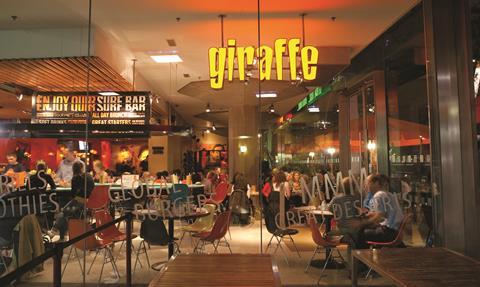 Why are we talking about it now?
The grocer acquired family focused restaurant chain Giraffe for £48.6m last week. Giraffe has 48 restaurants nationwide, including franchises at Heathrow and other UK airports.
Why is Giraffe attractive to Tesco?
With 48 restaurants, there remains plenty of growth opportunity for Giraffe. The restaurant group delivered £3.9m EBITDA against turnover of £40.5m in the year to March 2012 and has a healthy margin of 9.6%.
With a focus on family and value, Giraffe attracts a similar audience to the Tesco shopper and offers a big opportunity for the grocer to open in-store restaurants. The retailer has already dipped a toe in the branded-restaurant market, opening a Nando's store in its Wembley shop in London.
What is Tesco's plan for Giraffe?
Shore Capital analyst Clive Black expects there may be a "step-up" in openings for Giraffe, and predicts a "growing clutch" in the vicinity of Tesco stores as the grocer's sizeable property team scouts locations. The retailer is also likely to introduce the restaurant into some of its large out-of-town Tesco Extra stores, some of which chief executive Philip Clarke last year admitted may be too big.
So is it all about filling space?
No. Leisure is becoming an increasingly important part of the retail experience and a strong footfall driver. Adding Giraffe restaurants to Tesco stores will make them more of a destination for families and gives a point of difference in a competitive market.
Black says that the acquisition is part of Tesco's strategy to make its store proposition "more distinctive and ultimately interesting". The grocer last year acquired a 49% stake in artisan coffee shop Harris + Hoole and opened its first in-store branch in London this month. It has also invested in the upmarket Euphorium Bakery chain, which it has since launched as shop-in-shops in stores. The grocer also appears to be looking to engage with customers using additional brands to its core Tesco label evidenced both by its recent investment and the launch of 'venture' own label brands.
However, excess space remains an issue. Asda boss Andy Clarke told Retail Week Live delegates last week that retailers will need to rethink hypermarket space.
Will we see more acquisitions like this from Tesco?
The grocer has hit the acquisition trail in the past two years, with digital buys including video-on-demand service Blinkbox and music streaming site We7. It is understood Tesco has a department scouting out new investment opportunities, so further acquisitions appear likely.