Customer service robots, such as Softbank's Pepper, have proliferated in recent years. However, many are not yet convinced of their efficacy, with one retail executive dismissing them as "broadly useless".
These robots have been developed by a host of firms including Orchard Hardware, Softbank and Unity Robotics, and boast skills ranging from understanding and answering customer queries in multiple languages and guiding them to items in store – all while collecting data.
US homeware retailer Lowe's rolled out a customer service and shelf-scanning robot in 2016 called the Lowebot.
Cambridge Consultants industry and energy commercial lead Bruce Ackman thinks the technology has intriguing implications for retail service more widely.
"In big-box stores there is a dearth of store staff – I have to go looking for sales staff to ask a question to. What the Lowebot does fills a function. It's a bit of a novelty right now but every interaction with a consumer and transaction is captured," he says.
"The value and game changer that these kinds of systems offer is in the rich data they will collect, which will then be imported into an analytics engine to constantly improve customer interactions with the Lowebot.
"It's not the function of the robot itself but how the robot interface and data collection allows retailers to improve customer experience, inventory management and the efficiency of store operations."
Retail Week's special report, Can robots help run your business?, delves into how robotics and automation will impact stores, warehouses, delivery and customer service, which sectors will be most affected and what retailers should do now.
It's worth noting that since the Lowebot was originally rolled out, its use has pivoted away from customer service to shelf scanning exclusively – indicating that to get the most benefit from a robot it is probably best not to ask it to multitask too much.
German electricals chain MediaMarktSaturn has deployed a host of robots across its stores, including Pepper and Paul the robots, developed by Unity Robotics – and chief innovation officer Martin Wild stresses that the technology fits perfectly into the firm's wider strategy.
"In our view, it's much more than just a gimmick", he says.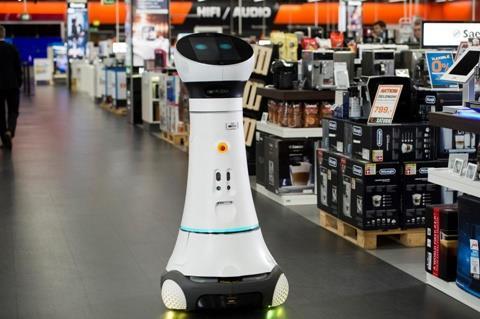 "Saturn's brand promise is 'live and experience technology' – and our robot assistants are helping us put it into action. Many of our customers see a robot or at least interact with one for the very first time in our stores. It's a great experience which they associate with the brand. Furthermore, the robots will learn quickly and therefore will help our customers on many more occasions in the future."
Wild adds that, as well as being a draw for first-time customers to visit MediaMarktSaturn (some customers are said to have travelled hundreds of miles to its stores just to see the robot) the machines are interacted with regularly by returning customers.
"This positive response shows we're on the right track with our strategy regarding new technologies: test quickly, learn quickly and adapt even quicker," he says.
Wild says it has encountered challenges such as speech recognition in a noisy environment but it is constantly improving the robots.
One of the key uses of customer-service robots is to take shoppers directly to the product they are looking for – which is an increasingly common source of frustration given shopfloor job cuts.
However, Bossa Nova chief technology officer Sarjoun Skaff is unconvinced this technology has tangible benefits.
"I've not seen any compelling reason why that automated shopping assistant makes sense," he says.
"Do you really need a robot walking ahead of you [to locate a product]? In one day it reduces the friction of downloading an app, but on the other hand the interaction is still kind of broken because of the maturity of technology is not sufficient to keep people engaged."
Find out more…
Robotics is a key topic at Tech. – our two-day festival of digital retailing. Sessions include:
The new wave of AI and Robotics transforming online retail, by Paul Clarke, chief technology officer, Ocado
A new role for robots in retail, by Andrei Danescu, chief executive and co-founder of Bots and Us and Trevor Periera, chief technology officer at Intu
Tomorrow's retail: Robots will guide us, by Martin Wild, chief innovation officer at MediaMarktSaturn Retail Group and Tom the Robot