Start-ups in retail technology are growing and Retail Week is highlighting some of the best. This week Tradeshift is in the spotlight.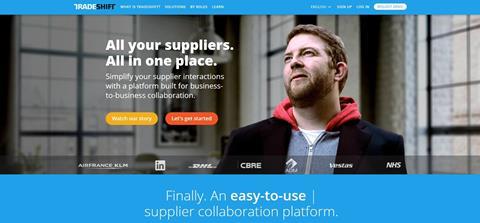 Tradeshift is a cloud-based supply chain platform designed to allow retailers to manage all their global supplier relations. Chief executive and co-founder Christian Lanng explains more.
Key facts
Founded: 2010
Investment: £87.8 million from investors including Scentan Ventures.
Retail partners: La Redoute and PacSun
Founders: Christian Lanng, Mikkel Hippe Brun and Gert Sylvest
What it does
Tradeshift is a cloud-based global supply chain platform that connects retailers to all of their suppliers in one central place.
Designed to provide a collaborative digital solution to many of the out-dated back-end processes affecting retailers, Tradeshift is accessible without significant investment in infrastructure.
Tradeshift's offer started out with digital invoicing but has since grown to include additional solutions such as dynamic discounting for buyers and affordable access to working capital so that small businesses can improve cash flow.
The platform is adaptable for retailers of any size and compatible with other business apps like PayPal and QuickBooks.
How does the technology help retailers?
Over the years retailers have invested a great deal in product innovation, but without dedicating the same investment to their back-end processes.
As companies get bigger and globalisation expands supply chains around the world, retailer-supplier relationships are put under increasing pressure. Retailers therefore need to digitise back-of-house functions in order to keep up.
"With Tradeshift, retailers gain real-time visibility into transactions meaning that they can make smarter, faster decisions" says chief executive and co-founder Christian Lanng.
"This type of collaboration is making accounts payable and procure-to-pay departments function seamlessly, improving overall business revenue, productivity and supplier relations".
More information: Tradeshift.com