Start-ups in retail technology are growing and Retail Week is highlighting some of the best. This week Goodvidio is in the spotlight.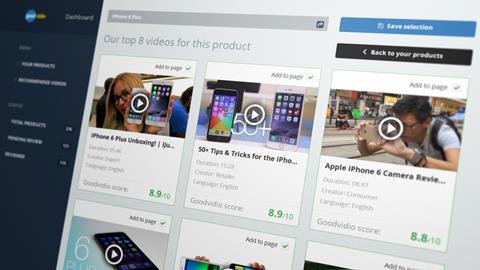 Goodvidio finds and filters videos from social media that relate to retailers' products and adds them to their online stores. Chief executive Dimitrios Kourtesis explains more.
Key facts
Founded: 2014
Retail partners: Online retailers including Tassimo.co.uk and MediaMarkt.com.
Investment: £218,000 from venture capital firm Openfund.
Founders: Dimitrios Kourtesis, chief executive and Konstantinos Bratanis, chief technology officer.
What it does
Goodvidio enables online retailers to incorporate curated videos from social media into their online retail offer.
Combining cloud-based information filtering technology and curation, Goodvidio searches social video platforms to discover high-quality product videos that retailers can re-share on product pages.
Goodvidio enables retailers to curate this content, embed and maintain video galleries on product pages, as well as measure and optimise customer engagement and conversion.
Through an automated test-and-learn cycle Goodvidio discovers which videos resonate most with shoppers on each product page, optimising the selection of content in video galleries to improve customer experience.
What problem does the technology solve for retailers?
Video-sharing platforms like YouTube offer a plethora of reviews and how-to videos created by vloggers, consumers and brands, who welcome re-sharing of their content on ecommerce sites.
However, retailers are struggling to find the right videos for each product, to manage all this third-party content and to know what works and what doesn't.
Goodvidio changes this, offering a unique solution to leverage third-party videos on retailer sites in a scalable way.
"Our product differentiates retailers' websites, increasing visitor engagement dramatically and improving conversion rates" says Goodvidio's chief executive Dimitrios Kourtesis.
More information: www.goodvid.io