Start-ups in retail technology are growing and Retail Week is highlighting some of the best. This week Global-e is in the spotlight.
Start-up Global-e's checkout platform integrates into retailers' ecommerce websites with payment technology that caters to international shoppers. Co-founder Nir Debbi explains more.
Key facts
Founded March 2013
Investment Global-e is privately funded
Retail partners Liberty and Astley Clarke
Founders Amir Schlachet, Shahar Tamari, Nir Debbi
What it does
Global-e is a cross-border ecommerce platform which helps retailers expand into international markets by offering customers a localised, seamless online shopping experience.
The start-up helps retailers tailor ecommerce offerings for international markets by supporting local currencies, payment methods and providing multilingual checkouts.
The platform also provides multiple shipping options as well as local duty and tax calculations.
Global-e's co-founder Nir Debbi says: "Retailers today are looking to drive growth by targeting shoppers overseas, but a major barrier has been poor customer experiences for international shoppers resulting in low conversion rates.
"Global-e is designed to deliver simple and localised ecommerce experiences to increase international growth for retailers."
What problem it solves
Global-e is designed to increase retail sales in international markets by removing payment barriers for online shoppers.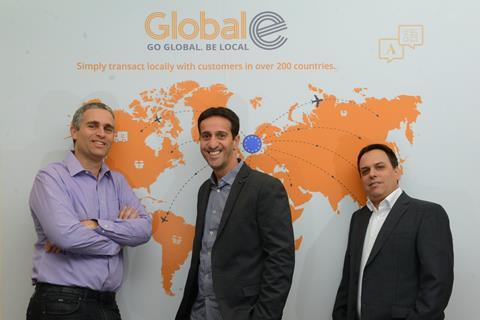 It integrates into a retailer's online offer so international customers browsing online are transferred to Global-e's platform when they begin the purchase process.
The payment solution supports over 50 currencies and 30 payment methods, maximising convenience for international customers when making purchases.
Global-e allows retailers to outsource international payments without incurring significant cost. A retailer pays a small percentage on each of its international sales to Global-e and there are no monthly minimum charges or fixed commissions.
More information: www.global-e.com