Start-ups in retail technology are growing and Retail Week is highlighting some of the best. This week CornerDrop is in the spotlight.
CornerDrop is an IT delivery solution that allows shoppers to collect any online order from a nearby business and any ecommerce site to offer click-and-collect. Chief executive Andrew Lasota explains more.
Key facts
Founded: December 2013
Investment: £200,000 from crowdfunding platform Seedrs
Retail partners: Magento, Shopify and Nisa
Founders: Andrew Lasota and Daniel Grimes
What it does
CornerDrop is designed to make fulfilment easier for online stores and more convenient for their shoppers.
Any business location can sign up to accept parcel deliveries and earn money. For online stores this means they can offer a click-and-collect service on their site via CornerDrop.
For shoppers, it means purchases made from any website can be delivered to a location of their choice.
When making a purchase from any etailer, CornerDrop users are given a security code to use as part of the delivery address they nominate from CornerDrop's directory.
This allows them to pick up their parcel whenever and wherever is convenient for them. Users can also nominate businesses near them to become a delivery point via CornerDrop's website.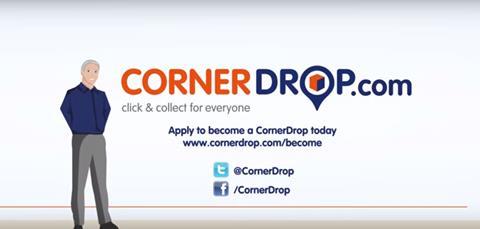 What problem it solves
CornerDrop is designed to benefit time-poor shoppers, who can pick up parcels from their nominated address when it's convenient.
It also allows smaller etailers to offer the same click-and-collect services that bricks-and-mortar retailers can provide, improving first time delivery rates and keeping customers happy.
Lasota said: "CornerDrop covers the UK and provides the technical means for online retailers, consumers and other couriers to offer a new delivery option without impacting its existing offer.
"It's a simple integration which offers consumers more convenient delivery options, meaning increased sales."
More information: cornerdrop.com