Start-ups in retail technology are growing and Retail Week is highlighting some of the best. This week Flubit is in the spotlight.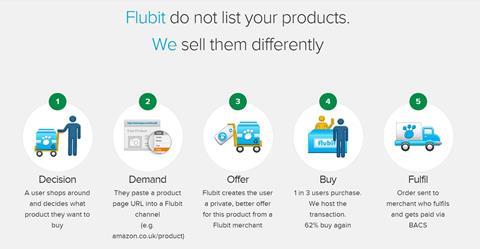 Flubit is an online marketplace that allows shoppers to find more competitively priced alternatives to products they are browsing online. Co-founder Bertie Stephens explains more.
Key facts
Founded: 2012
Investment: £9.5m investment from undisclosed private and angel investors.
Retail partners: HMV and Hitari.
Founders: Bertie Stephens and Adel Louertatani
What it does
Flubit is an online marketplace that seeks to give users access to competitively priced products. The website allows users to enter the URL of an item they want to buy online – Flubit then finds equivalent offers that are cheaper from its list of merchant partners.
For merchants, there are no set-up costs or monthly fees, allowing retailers to offer a more competitive price and giving customers a more competitive offer and a unique shopping experience.
"Flubit is an innovative and disruptive way to buy and sell," says founder Bertie Stephens.
"Our online marketplace empowers the consumer to get a better price on a product they want to buy and helps independent UK online retailers drive more orders without sacrificing margins."
What problem does the technology solve for retailers?
Flubit.com gives retailers a viable platform to sell their products at competitive prices without having to invest in a separate ecommerce offer. The format of Flubit's website gives independent retailers a direct channel to compete with ecommerce giants such as Amazon, increasing their exposure to online shoppers.
Flubit also personalises its offers based on what products are searched for, meaning offers cannot be found outside of their platform. This increases the likelihood of repeated visits from online shoppers, as well as ensuring that users are not bombarded with offers that can be detrimental to the overall customer experience.