Facebook is rolling out a new feature entitled Marketplace, creating a dedicated feed for users to buy and sell through the platform.
The social media giant has launched the marketplace feature across its UK, US, Australia and New Zealand mobile apps.
It plans expand into more countries as well as add capabilities to its desktop website in the coming months.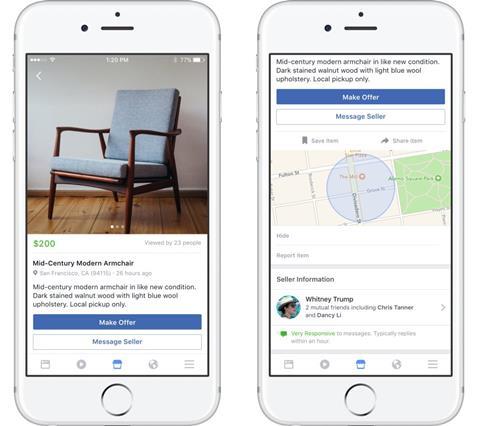 Facebook, which has been driving its retail credentials in recent months by launching local availability advertising and store visit tracking technology, has added the Marketplace feature to monopolise on the 450 million people who visit buying and selling groups on the platform each month.
Users can click through to the Marketplace to browse a feed of items that are available to buy from other users nearby, or list items to sell themselves. They can search for items on Messenger based on category, location or price.
The feature is integrated with Facebook Messenger, allowing users to arrange a sale or meet up to exchange items directly, but does not currently include native payment capabilities allowing people to purchase items directly through the platform.
Marketplace return
Facebook initially rolled out a marketplace feature in 2007 but it was shut down in 2014 after failing to gain traction with shoppers. In October last year the social media platform began testing a feature titled Local Market, which has been now replaced by the Marketplace feature.
Retail pages are not currently able to list items on Marketplace, meaning that for the time being users can only buy and sell items from each other directly.
However, Marketplace product manager Bowen Pan has said that Facebook would consider rolling it out to business partners if the feature was a hit with its users.
The new feature claims to offer greater security than rivals' offerings, such as its linking directly to personal accounts which reduces the chance of fraudulent activity.