The credit market has faced a shake-up, but with in-store credit still accounting for billions in sales providers are innovating to offer better point-of-sale finance.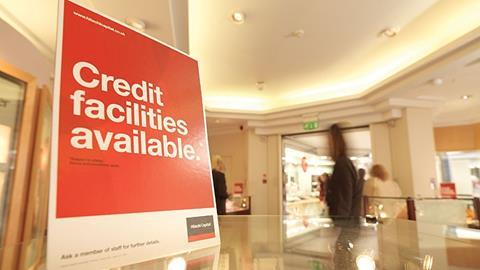 In March consumer finance specialist Hitachi Capital announced it planned to pump £1bn of point-of-sale finance into the retail market to stimulate demand and sales.
The aim is to get customers spending again and follows two consecutive years of record growth for the finance specialist, which by the end of this financial year will have provided about £700m of credit to retailers including ScS, Beaverbrooks and DFS.
The company is not alone in such rapid growth. The counter cyclical nature of point-of-sale finance means that it becomes more attractive to both retailers and their customers when other sources of credit dry up. But at the same time as Hitachi Capital and a number of its rivals are ramping up their operations, the withdrawal or planned withdrawal from the market of a number of competitors - many of which are bank owned - has also allowed these finance specialists to pick up new business.
One of Hitachi Capital's closest rivals, Laser UK (formerly Creation), is seeing similar growth; up 50% in the past year and also on target to hit £1bn of sales this year.
And Ikano Financial Services, which originally grew out of the Ikea business, has also grown rapidly. Last month Ikano announced it had taken on Steinhoff UK, owner of Harveys, Sleepmasters, Bensons for Beds, Reid Furniture and Cargo, which between them operate more than 650 stores in the UK. Its new finance options will increase the accessibility of such products to customers according to Steinhoff UK.
Lloyds TSB's Black Horse pulled out of the retail market to focus on high-ticket items such as car finance last November. Although B&Q and DSGi remain customers of HSBC-owned HFC Bank, it is not expanding in the point-of-sale finance market and exited a relationship with DFS last November.
Meanwhile GE Money - which previously included a point-of-sale credit offering and store cards business - was sold to Banco Santander in January and has also seen change.
Borrowed time
Despite the shake-up in the market, point-of-sale credit remains an important sales tool for retailers - particularly in the recession. According to the Finance and Leasing Association (FLA), in-store credit agreements rose 4% in the run-up to Christmas last year, with consumer finance agreements and in-store lending boosting GDP £4.34bn.
The FLA's figures show that store instalment credit is the only consumer finance product to have seen positive growth throughout the whole of 2009 and although the snow and VAT increase skewed the figures for January the trend is likely to continue in 2010.
Ikano Financial Services commercial director Dan Joy says that it is growing rapidly for him too. "We are seeing all our growth from point-of-sale finance. Retail finance is our raison d'être and we are in strong growth mode," he says.
A FLA spokesman says in-store credit is an easy win for retailers whether they are interest-free or interest-bearing deals. "Customers are using these products because they are flexible and allow consumers to spread payments for essential goods and keep them at levels that are within their budgets," he says.
Retailers and their finance partners are also becoming more innovative about the way they market in-store finance - using events such as digital switchover or the World Cup to stimulate demand. "We try and be more retailers than bankers because we have to invest time and understand each retailer's proposition," says Hitachi Capital Consumer Finance divisional managing director Gerald Grimes. "Our relationship managers sit down with retailers and discuss KPIs, etc, and work on a credit strategy together," he says.
Grimes adds that the incremental sales offered by consumer finance should make it a no brainer - especially in the current climate when sales may be down. "It facilitates the sales and gives the customer added value," he says. "For retailers this is a core product and many retailers need this to survive."
In-store finance has also become an increasingly important part of the marketing message. Furniture retailers in particular rely heavily on in-store finance to help stimulate demand. DFS has long used the attraction of interest-free credit in its advertising to tempt customers into store.
But rival ScS - which offers up to four years interest-free credit on many of its sofas - has simplified the message further for customers with a £10-a-month sofa deal launched in February last year and a £25-a-month deal on its platinum collection offer launched this March. The advertising covers both TV and national and regional press. "The credit market is very heavily promoted in our sector and to have real standout can be difficult. We wanted to standout from our competitors and get the message out there on what you can actually get in your home for a small payment," says ScS sales director Kevin Royal.
Providers are also working on new products and new delivery methods. "One of the key areas of development for us has been ecommerce finance provision. Typically that has not been a very customer friendly process because it is very manual and involves printing off and sending in forms and proof of ID, which can take two to 10 days to approve," says Laser UK group managing director Stephen Hunt. "Our new process will take 10 minutes and will help to drive sales," he says. The service launched in March.
Consumer finance and retailers are also working closer together to identify up-selling opportunities at the point of sale. "With our in-store solution we have the ability to score the customer and so if a customer has more credit available to them than they thought we can use that to up-sell to them," says Hunt.
While some banks have reined in lending, retailers that want to offer point-of-sale finance should find many options in the consumer credit market.
Store card changes: the facts
In March the Government introduced changes to credit card and store card credit deals to improve the fairness of such practises and introduce five new rights for card borrowers.
The changes will include a new right to use customer's monthly repayments to pay their most expensive debt first when previously the minimum payment often only covered the interest. For customers opening new accounts the minimum payment will always cover at least interest, fees and charges and 1% of the principal debt.
Customers will also have the time to reject raised interest charges on existing loans with a 60-day notice period and a 30-day notice period, and the right to reject raised credit limits on theiraccounts.
Card companies are also considering the suggested introduction of an annual statement that would allow customers to compare charges with other lenders more easily.
Stephen Hunt, group managing director of Laser UK, who provides storecards for retailers such as M&Co, says it worked with the Government and FLA to outline the principles and says many of them already exist at Laser UK and others - such as annual statements - are now being considered. "We have to take the lead with the customer to help them understand what they are getting into and what their rights are if they get into financial difficulty," says Hunt.