Customers increasingly want to serve themselves rather than wait in a queue, but they expect fast, reliable systems. Alison Clements looks at whether self-service technology is meeting their expectations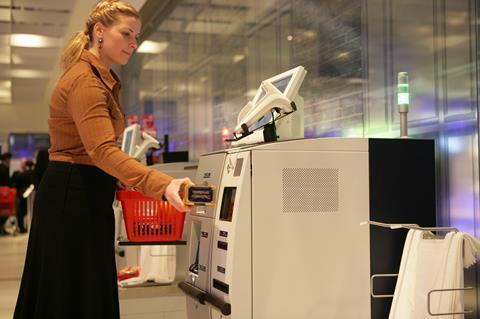 Self-service in retail used to be seen as a bit of a gamble. Speculation that busy mums and older shoppers would reject the technology was rife, but has since largely been proved wrong with customers warming to its ability to beat the queues.
Gentle persuasion in stores and improvements to the technology mean all the leading supermarkets have rolled out self-checkout, with the exception of Waitrose, which is currently trialling it. Now 'second tier' players – in particular the convenience stores and discounters, and non-food retailers such as Boots and B&Q – are giving customers the option to self-scan.
Anglia Co-op head of ICT Richard Feest says it's a canny investment. "We've seen good adoption rates, particularly within our core demographics of mothers and retired people. We've found that between 45% and 60% of our customers prefer to pay by self-checkout." The retailer was an early adopter of the technology, and today 40% of its lanes are self-service.
Customers certainly appear to like it. About 30 million Brits a week use the self-checkout provided by just one supplier – NCR – at Sainsbury's, Tesco, and Boots among others. The objective for retailers is to reduce costs and improve the customer experience, and Ed Brindley, marketing director at Wincor Nixdorf, which supplies Morrisons, B&Q and Ikea, says clients report return on investment being achieved between 18 months and two years after deployment. In excess of 21,000 self-checkouts have been deployed in the UK, more than 8,000 of which were installed during 2010, according to analyst firm Retail Banking Research. For many early adopters – Tesco and Morrisons are big users – the optimum number of self-service checkout units are probably already in, but the story continues, with systems gradually being made more user-friendly, and the space they take up shrinking as the hardware becomes more streamlined.
Anglia Co-op is one retailer that wants to keep developing its use of the technology. The group has been installing more self-checkouts which use less physical space, boosting sales by increasing the number of customers that can be served. "For instance, at our Littleport store we've worked with Wincor Nixdorf to install three smaller and two larger self-service machines," says Feest. "Previously, a larger area was taken up by only four self-checkouts." He adds that in addition to the space benefit, reaction from customers has been positive.
Although investment in point-of-sale systems is not a major priority for recession-hit retailers today, leading players are keeping an eye on developments in multichannel retailing, including mobile and contactless payments. While many retailers are postponing costly EPoS replacement plans during the downturn, some are still interested in newer models with mobile payment technology – at this stage, it's a good way to stand out from the crowd.
As the economy recovers, it's likely that new generation self-service technology, that can easily be integrated with incoming mobile and contactless payment systems, will be on many IT directors' shopping lists. "Offering self-service is being seen by retailers as a necessity now because customers expect it," says Brindley. "Shoppers with five or six items, wanting to be in and out quickly, are irritated if they can't self-pay these days." He thinks other sectors will quickly begin to offer self-service checkout – already active in the field are WHSmith, B&Q and Boots – but he says fashion will be hampered by the use of security tags on garments.
Giving customers what they want
According to a 2011 IBM Institute of Business Value study on how to win the hearts and wallets of 'the smarter consumer', "retailers need to empower customers by making it as easy as possible for them to complete the shopping process, which includes providing the right services and letting consumers choose how they interact". The study stated that 40% of shoppers want to check prices and promotions wherever they are, while 50% are willing to use self-serve devices to avoid checkout lanes. This all suggests a growing demand for self-service options.
Usability problems still need to be overcome, but great progress has been made in self-service systems. Brindley says the customer interface is far better than it was five years ago, with units boasting full-colour, touchscreen displays and clear graphics. "The user experience is more intuitive, which makes staff training, and customer education much easier," he says. Cash management is better too. "There's secure recycling of cash within units now so staff aren't constantly emptying and reloading with cash." In the future, taking payment through smartphones and tablet devices will be a possibility, and near field communication (NFC) contactless payment schemes must be considered.
Big retailers are also looking to personalise self-checkout for each customer, says John Curnow, NCR's vice-president of retail and hospitality for Europe. "They're exploring how to link with loyalty schemes, tap into personal preferences, even remember if a customer is left-handed and populate the icons on screen to the left to suit that individual," he says. "Loose items without a barcode can take some time to find on menus, so we're developing the software that will remember if someone always buys pain au chocolate on a Saturday, and make sure that product pops up first on the bakery menu."
As the sales channels converge, self-service units are likely to proliferate in stores, with the technology becoming ever-more ergonomic and intuitive. "For the first time, kiosks are being developed that can be used for many different activities – from home ordering, to loyalty marketing to product promotions, which makes them really cost effective for retailers," says Curnow. It's well known customers love choice and being in control – if self-service can facilitate this, it could help lead to significant increases in revenue.
The future of self-service?
Self-service is becoming more than a convenient way of paying. Multichannel kiosks let customers order goods from an extended range, for collection in store, or home delivery, and this is something Asda, Debenhams and Sainsbury's have recently embraced to assist incremental non-food sales. Debenhams is planning to introduce online kiosks in all of its 153 stores by the end of October in a bid to improve its multichannel offer and increase sales. The kiosks will allow customers to order any Debenhams product in any store, improving availability, and the kiosks will also be linked to its point-of-sale system so customers can pay by chip and PIN.
Eventually, RFID chips could replace barcodes on products. Consumers would be able to buy items by placing them in their basket or trolley and walking through a checkout 'portal' featuring readers that automatically capture the transaction data. The shopper could then receive and scan a paper or mobile barcoded receipt, and pay at a kiosk or using their mobile. There are technological and cost challenges to overcome for this to happen – for example, liquid and metal cans currently interfere with the RFID signals – but researchers are working on overcoming the challenges.