Social media platforms offer a wealth of consumer insight, but turning that data into an effective brand building and sales tool remains a challenge.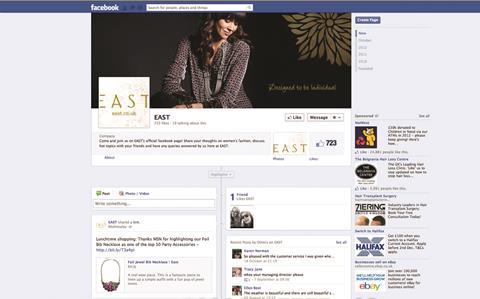 Social media has in recent years become a central component in the digital strategies of multichannel retailers. But it's not always plain sailing. Retailers don't always know how to best use the platforms and, for many, social is simply adding another layer of complexity into an already overwhelming pool of data.
Simone Williams, ecommerce manager at womenswear retailer East, says working out how best to use the data is a challenge. "We don't have the expertise in-house to harvest data from our social networks and this is an area I'm keen to explore in the future as I'm quite excited by what we can learn about our customer through social," she says.
Jonathan Hudson, social and mobile lead at Shop Direct Group, says while the ability to capture social data is still quite new, it's enabling the home shopping giant to identify important demographic information such as age, location and gender. "The kind of things we're looking at are pioneering in a way - being able to access this new level of data is really quite incredible, because it just didn't exist five years ago."
Used correctly, data captured via platforms such as Facebook, Twitter, Pinterest, Google+, Instagram and Tumblr helps deepen customer engagement and drive sales. Tracy Yaverbaun, vertical business partnerships, EMEA group director of retail at Facebook, says shopping is an "inherently social activity, and that retailers have more power than ever before to influence the process by building a direct relationship with consumers."
She adds that while Facebook can't reveal personal details, it can provide aggregated data. In addition, it has launched a service called custom
audience targeting, which allows retailers to bring their own customer information to Facebook and use it to target shoppers on the network.
However, distilling social data and insight into a truly meaningful tool remains a challenge for many. "Even though retailers are increasingly talking about social media and have Twitter feeds or Facebook pages, not many are doing much about harnessing the valuable data shared by consumers. Thechallenge is being able to cut through and filter the noise, and that is often where many of them fall short," says Alex Fovargue, retail specialist at software provider SAS UK and Ireland.
Leading the way
Jonathan Wolf, director of agency products at social data, software and analytics firm Bazaarvoice, says the problem is that there is no structure to the conversations happening on social platforms and urges retailers to directly engage by starting and leading conversations.
Fovargue advises analysing the context of conversations and separating the data into key themes such as discussions on brand, specific products or promotion strategy.
Given the scale of conversations happening in the social realm, it is worth investing in social media analytics tools to help decipher the data. Shop Direct uses social media monitoring tool Radian6. Hudson says "when an ad campaign launches we look at what the sentiment around that campaign is, what kind of verbatim people are saying openly on Twitter and on Facebook".
He adds: "You get this information straight away. So it's extremely fast and fresh data, which makes it very useful."
Hudson admits that Shop Direct is at the beginning of its social data project, with "big plans in place" to use it to influence customer journeys - plans he's keeping under wraps for now.
Investing wisely
Wolf says retailers should look beyond cost when deciding on whether to invest in such tools. "If retailers want to make the most of social media data, they will need a tool that stores and analyses data and allows brands to use insights to create opportunities and predict future behaviour. Such tools will always cost more than simple reactive tools with no memory or ability to link to other data points that a retailer may have. But retailers should not
focus on cost."
Martin Newman, chief executive of ecommerce specialist Practicology, agrees. "Given the potential ramifications of not paying attention to what people are saying about your brand these tools can be the difference between success and failure."
Jon Stanesby, associate director of strategic services at digital marketing firm Responsys, says retailers need to understand how social platforms build relationships over time. "It's that I think scares people, because it's so much easier to look at content from a 'views, clicks and pounds' perspective. It's almost seemingly unachievable to try and digest, review, and act upon all of this data."
Yaverbaun agrees and says in the case of Facebook, retailers need to look beyond the last click. "Not every campaign has the objective of driving 'likes' or sales. For example, a brand may set out to get customers' views on future product ideas, which ultimately contributes to future success." Measuring outcomes should be more qualitative than quantitative - but as time goes on, retailers are getting better at understanding such outcomes.