Disruptive technologies are driving seismic change and nowhere is this more apparent than at the NRF's Big Show conference.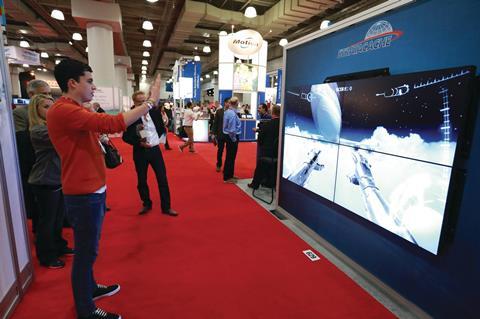 As anyone who has ever walked the bustling halls of the National Retail Federation's show in New York will tell you, emerging technologies, cutting-edge innovations and new ways of thinking can be found at every turn. But with such an abundance of riches, it can be extremely hard to distil it all down into bite-sized learnings or trends to take away.
Perhaps the word that best sums up the divergent themes coming out of this year's show in relation to technology is 'transformation'. Whether it's the role the next generation of disruptive technologies are playing in the transformation of retailers' relationship with their suppliers, their approaches to data analytics or their overhaul of traditional retailing tools - the transformative power of emerging technology is being felt in these three crucial areas.
NRF by numbers
30,000 registrants
86 countries represented
1,652 people from Brazil, the most-represented foreign country
242 people in the largest single international delegation, again from Brazil
278 speakers
555 exhibiting companies
8,600 mobile app downloads
113 educational sessions
100 hours of content
205,000 net sq ft already sold for next year's show
Whereas last year the annual show was awash with talk of the rising importance of a seamless integration of the customer's experience across multiple channels, 12 months on and the retail picture has shifted significantly. Offering a first-rate multichannel experience is now a given; what's important in 2014 is how retailers can use technology to transform the tools that deliver a seamless shopper experience to make them work harder and more efficiently.
Transformation of supplier relationships
Whether it's offering customers financial services such as co-branded credit cards, or working with technology developers to create customer-facing apps, retailers are relying more heavily than ever on partnerships with third-party tech developers.
Denise Incandela, former executive vice-president and chief marketing officer at US department store chain Saks Fifth Avenue, said co-branded credit cards offer retailers huge opportunities to personalise promotions and boost customer retention and acquisition rates. They also give retailers an opportunity to mine the consumer data collected, which Incandela claimed "is having a huge payoff" for Saks.
"It means we can get really personalised and targeted. It's good for the customer as it's much more relevant. When we personalise we see significant return enhancements," she said.
Walgreens assistant treasurer Dan Morrell pointed to the success of its recent successful link-up with Mastercard, whereby customers are offered a pre-paid bank card. Launched in November, the Balance Financial service provides a safe alternative to cash for customers without a traditional bank account or those who want alternatives to debit cards and checking accounts. Such services enable Walgreens to be "more relevant in customers' lives" and offer better services, he claimed.
Walgreens' mobile development team is "taking a more open approach" to app development so the retailer "stays relevant to the new consumer", he added. In doing so it is working with more third-party technology providers to offer new apps that benefit consumers.
Adapting approaches to data analytics
The foundation of retailers' competitive advantage in 2014 will be how they transform their thinking around data analysis, according to IBM chief executive Ginni Rometty.
Thinking strategically about big data "will determine the winners and losers" of the retail industry, Rometty claimed. "Information will be your basis of competitive advantage. Value is shifting in business, thanks to the explosion of data, which is the world's vast new natural resource. It is being fuelled by the infusion of technology into all processes, the proliferation of devices and changing expectations from digitally empowered customers and employees."
Rometty claimed 80% of the world's data has been created in the past two years. "We're going to enter a period where stores will be a valuable source of data. We're going to see intelligence of online, combined with the tactile immediacy of being in store," she said.
For Rometty, retailers' biggest challenge is the range of methods they use to analyse the data. "The hardest thing, but one that makes all the difference, is use of a range of analytics - descriptive, predictive and prescriptive," she said.
In agreement was Oracle Retail senior vice-president Mike Webster, who believes retailers are funnelling money into improving their back-end technological and digital capabilities as IT jumps to the top of their priority lists.
"The industry has made great strides in building great digital experiences"

Mike Webster, Oracle Retail
Part of the newly diverted money is being spent on advanced personalisation, according to Webster. "The industry has made great strides in building great digital experiences. It has set the marker in terms of how we use mobile and online ecommerce to build a brand and drive recognition. We'll see the industry work more aggressively towards hyper-personalisation," he said.
Overhaul of traditional retailing tools
Traditional retailing tools have no place in a brave new world of disruptive technologies and cutting-edge innovation, according to many keynote speakers.
Twitter chairman and co-founder Jack Dorsey touched on the power of location-aware applications that will leverage the analytical power of social media and geotagging, and totally replace the need for traditional receipts.
In 2009 Dorsey founded Square - a small, square-shaped mini card reader that attaches to a mobile device and enables the consumer to pay an amount to a chosen recipient. When they walk into a signed-up store, their name and a picture of their face appears on the retailer's till via geolocation technology and the merchant can confirm the payment without having to physically handle the consumer's bank card.
By sending a paperless receipt via text message or email, the retailer is able to engage in a much more meaningful way with the consumer, according to Dorsey.
Retailers are failing to see the receipt as a means to "build a communication channel between the merchant and the buyer", said Dorsey, who claimed "the receipt is a rich communication channel that can be interactive".
For Saks' Incandela, location-based technology has tremendous potential for retailers and will reinvent how they target shoppers. "Geofencing is something that's hot - a lot of people are talking about it," she said.
Incandela urged retailers to leverage next-generation technologies in store - "there's a need to reinvent the store experience to be a playground for the millennials and urgency to disrupt the store experience," she said.
Chris Mangham, chief information officer at Russia's largest consumer electronics retailer M.Video, also spoke of the need to arm staff with the same technological capabilities that consumers have.
"What we must be doing as technologists is give store colleagues the same information that the customer now has. We need to empower and motivate them," he concluded.
Top technological innovations on show
SAP launched the SAP Shopper Experience - a personalised retail mobile app that enables consumers to create collaborative shopping lists, redeem offers specific to a particular store and manage loyalty accounts. Shoppers can also self-scan merchandise and pay, as well as share offers with friends on Facebook.
Tensator's new digital signage - The Interactive Tensator Virtual Assistant - uses cutting-edge technology to project an image and create the illusion of a real person to deliver multilingual communications, FAQs, help and advice, specialist, directional and informative messaging as well as promotional branding.
Version 14, the largest-ever release of Oracle Retail solutions, claims to improve the customer experience with new end-to-end functionality and more flexible integration. Among its key features is the "ability to deliver inventory alignment, real-time inventory accuracy and transparency across business models and channels by integrating planning, supply chain, merchandising, store and operational processes with the consumer buying and fulfilment patterns", according to Oracle.
Silicon Valley-based developer Cashklick unveiled an application that it claims will revolutionise the practice of distributing store leaflets. Circularz enables retailers to create and track sales promotions by publishing them through multiple electronic channels, including the internet, Facebook, email and on to shoppers' smartphones.
The Intel-based Shopping Anywhere Solution allows consumers to purchase goods they see on TV shows in real time. Viewers can identify goods that interest them in an episode and receive special offers, play games to earn digital currency or purchase the products instantly.
Wipro's in-store navigation tool, Make the Right Move, converges in-store technology, augmented reality and location mapping to make the shopping experience hassle-free for consumers.
Brickstream showed its Smart Device family of behaviour analytics products. It claims that the device is the first and only solution to combine 3D behaviour analytics, a high-resolution video camera and wireless-based proximity data analytics within a single platform.