Malibu owner Pernod Ricard is bringing the Internet of Things into the grocery store and into people's homes. How does it work and how will it impact retail?
It's a balmy summer's day and you take a walk down your high street, fanning yourself to keep cool. As you pass your local supermarket, you see a sign: "The sun is out in Chichester. Stay cool with a fresh, creamy Piña Colada."
Don't mind if I do, you think. You go in-store and pick up a bottle of Malibu rum. A message pops up on your phone. "Want to make a piña colada? Click here to find the ingredients in-store."
When you do, a map pops up on screen that navigates you around the store to pick up pineapples in aisle 2, coconut cream in aisle 10 and pineapple juice in aisle 11.
This is not a vision of retail in 2030. This is happening here and now as brands take advantage of the Internet of Things (IoT) and a constantly connected consumer.
Drinks giant Pernod Ricard, owner of Malibu and Kahlúa, has been leading the field in using IoT technology to transform the shopping experience, and this could have a dramatic impact on the retailers it sells through.
Internet of Things
IoT has been around for some time. The idea is that all devices, from simple sensors and smartphones to wearables and the devices in our home, can be connected to the internet and talk to each other.
Back in 2014, Dixons used IoT as its rationale for merging with Carphone Warehouse. Back then, we thought fridges that automatically re-order your groceries and ovens that talk would be commonplace by now.
Fast-forward four years and although devices such as Amazon Echo and Google Home have made their way into our kitchens and bedrooms, we're only scratching the surface of what IoT can make possible.
Pernod Ricard is vying to change this.
This summer Malibu rolled out 300,000 connected bottles – 200,000 in the UK and 100,000 in Germany – following a successful pilot project in 1,600 Tesco stores.
By interacting with the Malibu bottle, shoppers can view a rotating array of content, enter competitions and see cocktail recipes, whether in the retail store or at home.
The Malibu bottles use Near Field Communications (NFC) chips, similar to the ones found in Transport for London's Oyster cards and many credit and debit cards. NFC-enabled smartphones will automatically give consumers access to the content, without the need to download an app.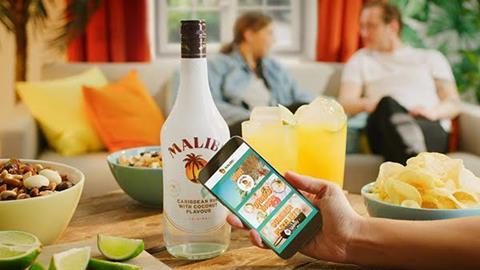 Malibu vice-president of global marketing Colin Kavanagh says: "This technology brings us closer to our consumers."
And shoppers are interacting with it. The firm shared stats from its 2016 connected bottle trial, which achieved a 2.5% engagement rate (which, given NFC technology is at its nascent stage, is impressive) and a 48% conversation rate from consumers who tapped to authenticate with a social platform.
Meanwhile, 52% of users entered an 'Instant Win' competition.
Pernod Ricard is working with IoT agency SharpEnd to spearhead innovation in the field. Founder Cameron Worth says: "The way that brands can really influence consumers now is in the real world."
Message in a bottle
Connected bottles are just one way Malibu owner Pernod Ricard is harnessing IoT. The firm has created innovation hub Living Lab, based in its Stockholm office, and some of its recent projects include:
Summer Taps – NFC is used to connect with shoppers' phones and navigate them around a supermarket to find cocktail ingredients.
Cocktail Genius – An Amazon Alexa skill designed to be used for its Echo Show device, which provides a video how-to guide to making cocktails.
K-boards – The simple A-board, that is found outside of shops, bars and restaurants, was given a tech upgrade with in-built screens that display relevant and personalised content. It made its debut at a Secret Cinema showing of Romeo and Juliet in London this summer.
Come On In – A bluetooth transmitter that can send branded messages to people in proximity to locations such as a bar or store.
Coco-nect – A cocktail cup shaped like a coconut shell, which has a twistable base that automatically reorders your drink and gives your location to the bar staff to deliver directly to you. This was piloted in 2016 but shelved due to regulatory issues regarding putting electronics into liquid vessels.
The Malibu AR Games – Using a shelf-edge tablet, when the bottle is picked up its logo activates an AR game in which the shopper has to pour a game, using the bottle as the mouse. The game is designed to make shoppers pick up the bottle in the supermarket – this increases the likelihood of them buying by 60%. It is being trialled at 10 Danish supermarkets this month.
A new way of communicating
Pernod Ricard is investing in Living Lab as it wants to be "tuned into digital natives" and is aligning its brands around these consumers with technology innovations, says Worth.
And some of the technology it has been using to connect with consumers has become a lot cheaper and more accessible, eroding what Worth says are the two biggest barriers to brands experimenting with IoT.
For example, NFC tags, which Pernod Ricard has used to activate its connected bottles, now cost around 10 to 12 euro cents; however Worth explains new models are being created using plastic rather than silicon, which will bring costs down to 2 or 3 cents.
"We are seeing more and more NFC payment around the world"

Colin Kavanagh, Malibu
Worth predicts this will open the floodgate of mainstream brands making their products and packaging connected. "It moves it away from the Pernod Ricards and Estée Lauders to the Pepsis, Unilevers and Nestlés," he says.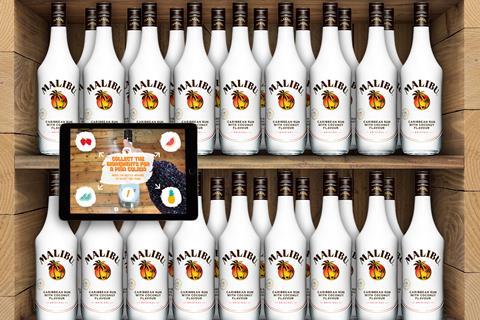 This could also see supermarkets get in on the act. "Retail own brand is a huge opportunity," Worth says.
Another key reason that Pernod Ricard is doing this now is because consumers are starting to use connected technology.
Kavanagh says: "We are seeing more and more NFC payment around the world. To an extent it is a bet but we are seeing that technology becoming more widespread and we have some good results from the trials we've done in the UK."
This new technology is giving brands new ways to connect to consumers, he says.
Pernod Ricard is viewing its connected bottle as a media platform, an alternative to traditional and digital advertising in reaching consumers.
"If you're a brand in 2018, you need to think about how you deliver your message"

Cameron Worth, SharpEnd
Worth says this is needed as we move towards smaller screens, which he says doesn't allow for brand-building in the same way.
He says: "Ten years ago, you had your TV ad, outdoor, digital – your screen size was big enough to allow for advertising. Smartphones made the screen size smaller and advertising more disruptive, and brands started to shift how they built themselves.
"If you look to the future – Amazon Echo and Apple watches – they don't carry advertising. These aren't devices that are built for advertising, they're built for service, convenience and utility. If you're a brand in 2018, you need to think about how you deliver your message."
And delivering your message in retail stores – or 'off trade' as Pernod Ricard terms it – is tough right now and the need to speak directly to shoppers is stronger than ever.
Kavanagh says: "There's more and more competitors coming in all the time. At the same time, a lot of retailers have a clean store policy coming in so we get less and less chances to communicate in-store."
Understanding your shopper
There is of course another compelling reasons for brands to be using IoT to connect to their shoppers: data.
Johan Radojewski, director of communication and channel marketing for Malibu and Kahlúa, says: "There's a lot of distance between us as marketers and the people that consume the product. If we can shorten that space, we will learn more about them and we can use that to become better and offer new products and services."
Worth says data acquisition is the biggest reason to adopt IoT. "As a brand, if the closest you've ever been to your customers is knowing what they like on Facebook then understanding who buys and uses your product and where, that's a wealth of data you've never had before. Or if you have had it, you've had to buy it from retailers.
"Here you own your data and you own your audience."
"The Living Lab is less a project or a space and more a process and a mindset"

Johan Radojewski, Malibu and Kahlúa
And there are opportunities to connect with that audience, not just in the store or in bars but in their own homes. In fact, Worth says Pernod Ricard will be looking to give different experiences pre- and post-purchase.
Is there danger ahead for retailers? Could one of the post-purchase experiences be to push shoppers to buy directly with the brand?
Brands selling direct-to-consumer (D2C) have become a big trend and are eroding sales for some multi-brand retailers. However, Kavanagh insists that is not in Pernod Ricard's plans.
"We're an alcoholic beverage so there's regulations on where we can be sold. We want to partner more with our [retail] customers and try to innovate with them and create value," he says.
However, Worth admits that for some brands this will be an option, and says D2C opens a "very interesting opportunity" for smart packaging, in particular.
IoT is a new way for both brands and retailers to connect with customers in the store and their own homes, and as tech costs come down and consumer uptake rises, expect it to infiltrate the shopping journey.
Living Lab
The wealth of innovation at Malibu and Kahlúa is coming from their Living Lab, which many retailers could take inspiration from.
The Living Lab exists in Malibu and Kahlúa's Stockholm base as a place where all its innovations live and breathe; however, its impact is felt wider across the company.
Radojewski says: "The Living Lab is less a project or a space and more a process and a mindset.
"We built a physical space for Living Lab so people can get a flavour for what's going on. But I don't want it to be something some geeks are playing with in the corner somewhere. I want it to be at the core of our products, brands and people."
A key part of Pernod Ricard's success has been the speed of innovation. The business believes in "rapid prototyping" and has set a timeframe of 10 days to turn an innovation project from what it terms a "business challenge" to a prototype.
From there, projects are piloted and then, in the case of connected bottles, scaled.
However, Kavanagh says the biggest benefit has not been the success of scaled projects such as its connected bottles but in the change of culture in the organisation.
"Why do big companies not have strong track records at innovation? A lot of the time it's because there's an inertia in the company and people feel like they can't take risks. We want to change that and empower our teams and take the fear off the table," he says.