Consumers are increasingly using voice to search for products, companies and services, with media analytics firm ComScore forecasting that half of all searches will be carried out this way in just two years.
People tend to search differently via voice than they do through text search as, unsurprisingly, they use a more conversational tone.
Alessandra Alari, head of search at Google UK, says: "One of the reasons people are using voice search is that it offers a hands-free way to get quick answers.
"But moving from typing to talking changes how people use search in a broader way. For instance, almost 70% of queries to Google Assistant are being asked in normal, natural speech, as opposed to the keyword phrases people generally type into a search box.
"Using a voice assistant feels much more like a human conversation."
Topping Google search
All brands and retailers strive to land at the top of search results. However, this is even more crucial for voice searches. Shoppers do not want to listen to an endless list of responses to voice queries – they want just one answer.
Google has been evolving to respond to the growth of voice search and, for the past couple of years, has provided 'answer boxes' to a wide range of queries.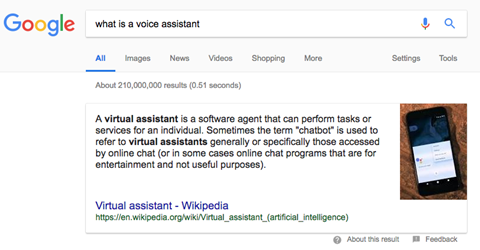 These answer boxes also determine the answers given to Google Home users.
Unlike the world of text search, businesses are currently unable to pay for voice search.
Google tried to introduce paid advertising into search results last year, but this was not warmly received.
In the US, Google Home customers who asked for a summary of the day complained when Google Assistant told them about the opening of Beauty and the Beast in cinemas. The search giant swiftly removed the ad.
However, reports surfaced earlier this year that Amazon is in talks with consumer goods giant P&G and cleaning products firm Clorox to promote their products on its Echo devices.
Shoppers do not want to listen to an endless list of responses to voice queries – they want just one answer
Accenture managing director of retail technology consulting Rob Barnes believes consumers will not tolerate paid-for search results.
"If they think the results are biased and not tailored to them, they'll not continue to use the device," he says.
"The platform businesses don't want that. They are far more interested in the data and trying to pair people up with the right product."
The focus for brands and retailers should therefore be SEO and making sure they have content that surfaces at the top of relevant search results.
Alari says: "For brands, the key to optimising for voice search is knowing what the questions are likely to be, and why your product is the answer."
Alan Boughen, president of paid search EMEA at advertising giant Omnicom Media Group, says pre-existing tools such as Google Keyword Planner can help brands understand what is being searched for.
He recommends retailers use websites such as AnswerThePublic.com to map out the types of questions consumers ask about products and brands.
Retailers should then set about creating content to answer those queries.
This content needs to be structured in a way that Google rates highly. Boughen says the search engine prioritises web pages with "structured data" and recommends that brands use websites such as Schema.org to make it easier for webmasters to assess content.
Jeremy Pounder, futures director at media agency Mindshare, says a brand's credibility in the area being searched is also taken into account by Google.
Reviews and social recommendations are important factors while determining credibility, so Pounder urges retailers to build strong relationships with influencers in their field.
How does Amazon do it?
Amazon's digital assistant Alexa makes product recommendations based on relevant items in a customer's order history or basket in the first instance.
If a customer has not made a purchase of that nature before, Alexa will suggest an 'Amazon's Choice' product.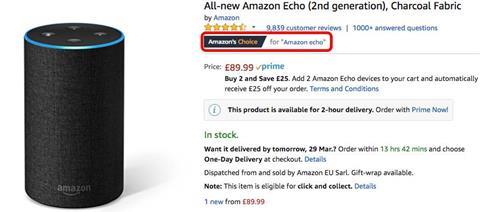 Amazon's Choice products currently only exist in more "functional" categories, such as electronics, and health and fitness.
In categories that do not currently have the Amazon's Choice feature, the top search result is read aloud.
Currently, brands cannot advertise or sponsor search terms on Amazon Echo.
Products attain Amazon's Choice status based on being popular and well-priced, having strong customer metrics and excellent supply chain metrics.
Amazon Choice selection criteria
Product
Customer experience
Supply chain
Average product rating: >4.5
Low return rate
All products Prime eligible (ie, fulfilled by Amazon)
Average number of reviews: 846 (variable)
Strong product guarantees
Max. 2-3 day delivery (no stack limitation)
"Best seller" ranking: >#8
Low proportion of negative customer experiences
Perfect order rate (ie, no errors in orders delivered to Amazon) >99% across all products
Low basket abandonment rate
High customer response rate within 24 hours
High order punctuality rate
Pre-fulfilment cancellation rate: <2.5%
Accurate product information, which is not misleading
Low order delivery time
Majority priced at "value end" of market – particularly among cheaper products
Amazon's Choice products also have to be eligible for Prime and sold wholesale to the online giant.
This gives brands and retailers more impetus than ever to start selling on Amazon, says Boughen.
"You need to be on Amazon to be in the game," he says.
The future of search
Right now, consumers tend to search via voice-operated devices like Amazon Echo and Google Home for very functional items.
Aural results do not make for a good browsing experience.
However, the next evolution of voice-operated devices will bring a visual element.
Amazon's latest-iteration Echo Show and Google's new Smart Display have in-built screens.
Vista Retail Support technical services director James Pepper says visuals have been the "missing element" of these devices as a lot of things can't be explained aurally.
He believes shoppers will search by voice and then scroll through results visually on the new-generation devices.
This should open up opportunities via voice search for brands and retailers across many categories, including fashion.
In fact, Amazon's Echo Look device – currently available to buy by invitation only – is designed specifically for the style-conscious shopper and is described as a "style assistant".
Users can take full-length photos and short videos using their voice to check out their outfits. Over time, Alexa will learn users' style and make product recommendations.
A built-in feature called Style Check combines machine-learning algorithms with advice from fashion specialists to give users a "second opinion" and advise which outfit looks the best based on fit, colour, styling and current trends.
This functionality makes it a good route to market for clothing brands, but also provides Amazon with a platform to promote its own fashion credentials – an area that it is eager to build on.
Action points: what should you do now?
Understand what types of searches people are making that relate to your product or service
Make sure you have content on your website that answers these questions
Build relationships with influencers to ensure your content offer is deemed credible
Make sure your page is SEO-ready. Make it easy for search engine crawlers to assess your site
Decide whether selling on Amazon is right for you. Search is increasingly being diverted away from Google, and Amazon is the big winner. Brands and retailers can benefit from selling on Amazon's marketplace
Read the report
Find out how voice technology will transform search, shopping and engagement, customer service, delivery and distribution, and what you should be doing about it.
Special report: How voice tech will transform retail
1

2

Currently reading

Analysis: Alexa, how can my brand top voice search?

3