As Smart TV connects our televisions to the internet, it heralds a world where viewers can click-to-buy. Alison Clements looks at the advertising opportunities on offer to retailers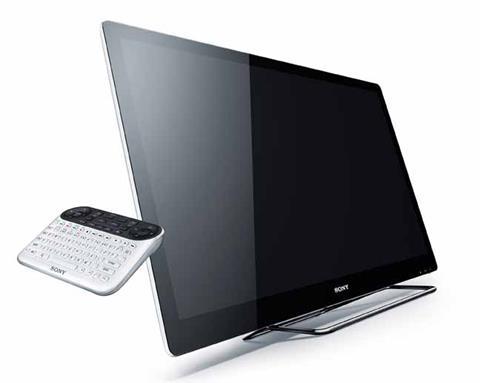 Bringing the web to our favourite corner of the living room could have explosive results for advertisers, and retail advertisers in particular, marketing experts claim. Smart TV, otherwise known as connected TV or internet protocol television (IPTV), gives consumers the power to experience what they enjoy on TV while being online at the same time. Primarily, Smart TV is about on-demand viewing, but further down the line it could also lead to click-to-buy adverts and product placement in programmes linked directly to retailers' websites.
"IPTV is an important emerging technology," says an eBay spokesman. "We are exploring various forms of integration with the TV watching experience as we continue to innovate in device-specific ecommerce." EBay is already a partner on Virgin Media TV's TiVo, a Smart TV service that launched in December 2010.
As well as offering the live TV schedule and a library of on-demand programming, the service introduces the app store to the front room through its set-top box, doing for TV what the iPhone and Android have done for the mobile phone. EBay is the first shopping brand to appear on this app line-up (alongside YouTube, Facebook, BBC iPlayer and more) but Virgin Media says additions are in the pipeline.
Web-enabled TVs now on the market from manufacturers such as Sony and LG have built-in web browsers, or you can plug in services like Google TV, Apple TV, YouView and Virgin Media TV through a set-top box connected to a normal TV. "Once you connect something to the internet, everything changes," says Norm Johnston, global digital leader at advertising agency Mindshare. TV series Mad Men will in effect become 'Meta Men', he says, as TV advertising taps into customer data gathered through activities played out on mobile devices and Smart TVs.
"Traditional 30-second ads won't disappear, because IPTV will only constitute a percentage of viewing, but you will also have highly targeted ads, because the set-top box will know the viewer and their interests." Johnston also thinks brands interested in IPTV need to monitor carefully the emerging systems for scale and stability as well as consumer reach and usage. "A tipping point will eventually arrive when enough of your target audience will be on a particular platform to warrant testing and experimentation," he says.
Limitless possibilities
What's clear is that the British love of television hasn't waned. In fact, we spent 4.2 hours a day glued to sets in 2010, up 18 minutes since 2009, according to commercial TV marketing body Thinkbox. The most talked about subject among young people on Facebook, meanwhile, is television.
So how will the experience of Smart TV viewing be different and how can retailers cash in? At the most basic level, people with a Facebook app downloaded on their TV will be able to 'like' and 'share' ads, extending a campaign's reach and impact. Watching TV will integrate more closely with shopping. Google TV – currently only available in the US – says companies are already working to enhance their web content for the television, giving developers the job of optimising sites for this new viewer experience.
Jonny Challenger, co-founder of fashion site StyleCompare.co.uk, believes the introduction of Smart TVs will be transformational. "It will change how people interact with and even buy fashion. The possibilities are limitless due to the high social aspect of Smart TVs and their instructiveness," he says. "I envisage seeing very clever advertising campaigns, product placements and high levels of user engagement. It's incredibly exciting as the campaigns have the potential to be highly creative, but it's very hard to predict what will happen next."
BT chief operating officer Richard Dodd agrees that social TV is a big trend that will lead to retailers using the fusion of TV-watching and social media as a stepping stone to sales. "We already see YouTique – French Connection's YouTube boutique – allowing customers to click through to buy from streamed video," says Dodd. "It won't take much for that to transfer to a Smart TV and become a more mainstream activity." He adds that Ofcom's recent relaxation of the rules around product placement spells rich opportunities ahead.
Arguably the biggest opportunity, says Johnston, will be consumers' ability to move quickly from a TV image to an actual purchase without leaving their sofa.
"Think Amazon's 1-Click ordering available on your TV whenever you see a product you like on a 30-second spot," he says. Product placement will take on a new significance as programmes are embedded with meta-tags and are become interactive, he adds. Imagine watching X-Factor and being able to purchase Cheryl Cole's clothes via the TV set.
Order fulfilment
Johnston also envisages highly visual and interactive product catalogues being instantly accessible on TV as companion pieces to existing programmes or simply called up from the electronic programme guide or Google search. Personalisation and recommendation could then help raise conversion rates, just as it does in PC-based web shopping.
Hosein Moghaddas, managing director for sales and marketing of ecommerce fulfilment specialist GSI Commerce, says TV networks are already making inroads into selling product that viewers have spotted in their programming. "We carry out fulfilment for ITV and HBO for things viewers want to buy, whether that's homewares shown in Desperate Housewives for HBO, or FIFA merchandise for ITV," he says.
"Today we're following up on interest that comes through to a call centre, but operationally everything is in place to accept orders through Smart TV. All the merchandising, payment and fulfilment can be integrated with existing channels, and essentially the order will be coming through the same broadband wire that consumers use through their home PCs. It's just a matter of providing a platform to make those orders through the TV."
Moghaddas thinks that players such as eBay, Asos and John Lewis would have the audience pull to link their own programming to product sales. But at this stage it's hard to see who will embrace Smart TV extensively and whether there's a business case for producing TV-quality content as opposed to advertising alongside it.
"The TV companies themselves are in pole position to become the retailers, and are starting to do so, but I'm sure it won't be long before forward-looking retailers get involved in tie-ins," he says.
The PC internet experience may be the best basis to predict who will be the first movers on and successful adopters of IPTV, says Johnston. The electricals retailers will seek to further exploit their existing online platforms – albeit from a new device and with new tactics – while the big fashion players may be able to use the visual experience of TV to convert mesmerised viewers into buyers.
If click-to-buy from TV images is the future, retailers will need to look into the possibilities and begin conversations with programme makers and channel owners. A powerful new breed of TV advertising is about to be unleashed. Making the move from PC and mobile to the television screen will be a development worth tuning into.
Google TV
Google TV launched in the US last year but no date has yet been set for a European service. It's a platform that combines current TV programming and the open web into a single, seamless "entertainment experience".
A Google spokesman says: "One of our goals with Google TV is to finally open up the living room and enable new innovation from content creators, programmers, developers and advertisers." He adds: "By bringing Google Chrome and access to the entire internet, you can easily navigate to thousands of websites to watch your favourite web videos, play Flash games, view photos, read movie reviews or chat with friends – all on the big screen."
The web giant says it has been overwhelmed by interest from companies asking how they can use the Google TV platform to personalise, monetise and distribute their content in new ways. Content partners include CNN, HBO, Twitter and Napster. Amazon Video On Demand offers access to more than 75,000 titles for rental or purchase. Many others are choosing to enhance their premium web content for viewing on the television.Google