Tesco has launched an automated shopping service that allows online customers to replenish groceries and monitor price changes.
The supermarket's initiative has come from its innovation arm, Tesco Labs, in partnership with the automation mobile app IFTTT.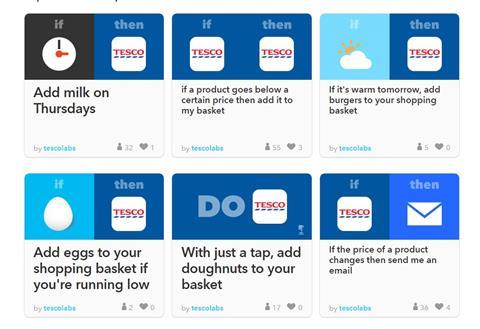 The mobile app is named after 'if this, then that' and allows events from other apps on a user's phone, from weather changes to Instagram upload, automatically trigger responses, which the app calls a 'recipe'.
For Tesco, a recipe will be based around users adding stock to their online shopping cart on Tesco.com reactively, such as adding a product when its price has been reduced or adding certain items based on weather changes.
In a blog post revealing the partnership, Tesco Lab head of technology research Paul Wilkinson said: "With the rise of connected home devices we've been doing a variety of experiments to help serve shoppers a little better every day and today we're happy to announce one of these is now available for you to try yourself.
"You can now trigger any other action on IFTTT if the price of a Tesco product changes or if it goes below a certain price. On the action side you can use any of the triggers to add a specified item into your basket."
The service is available for customers to use now, and they will need to have accounts on IFTTT and Tesco's website.