Retailers are increasingly enhancing the in-store experience through interactive technologies. Liz Morrell looks at what it takes to create a seamless customer journey.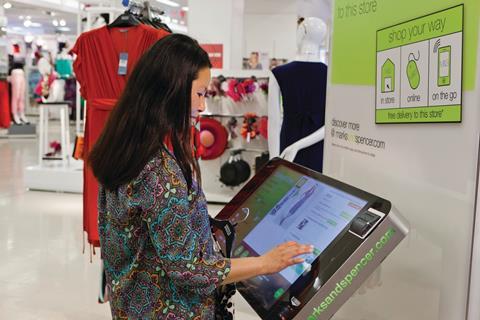 The rise of online and multichannel retailing has brought the in-store customer experience sharply into focus. By tapping into customers' shopping patterns, which are constantly evolving through the use of mobile and online platforms, retailers are working increasingly hard to entice customers into stores.
However, a focus on stores' USP versus online-only retailers – namely physical interaction with the customer and superior in-store experiences – needs to go hand-in-hand with technology roll-out.
"Traditional retailers can compete with, and even beat, the online pure-plays, essentially because they offer the brands that shoppers want and the social contact that still defines shopping," says Chris Donnelly, head of Accenture's retail practice for the UK and Ireland.
Raising expectations
John Lewis has introduced self-service kiosks, Wi-Fi and QR codes, and is trying the use of iPads in shops. "Customers benefit from face-to-face customer service and the ability to feel the product, but they can also access our online channel to view products not available in store and arrange a delivery that suits them," says John Lewis head of omnichannel Karen Dracou. "Customers are increasingly using a mix of shops, online and mobile and as a result we need to constantly adapt and evolve."
Fashion group Aurora is also adapting rapidly. The use of iPads has been integral to the design of its new flagship stores for Oasis and Coast in London's West End, and the devices are now being rolled out to further stores.
The iPads are being used as tills, customer service points or stock finders. "Using the iPad, we can offer a seamless and efficient shopping experience," says Oasis retail director Bridget Lea. "We can open up our complete stock file on the sales floor for the customer to see, we can also search for a product in store or across the business and offer home delivery if an item isn't available."
A number of retailers are also using mobile devices to make the payment process more efficient, and for queue-busting – Aurora, Hamleys Regent Street and Beaverbrooks for example.
"IPads are considerably cheaper than traditional till points. Also, their mobility allows us to transact across all areas of the sales floor," says Lea.
But sales are not the sole driver of in-store technologies – they can also smooth customer experience. "Sometimes our customers want to see how they look from the front and back in the fitting room and we take pictures for them or can even email it to their friends to get approval," says Lea. "We also provide iPads at our seating areas allowing customers to browse the web or catch up with friends on Facebook and Twitter, bringing social media into the store environment."
When retailers bank so significantly on in-store connectivity to boost customers' experience, considering usability and the store's design is vital. Lee Broom, the interior designer responsible for the look of the recently launched Coast, said the integration of iPads as payment devices was integral to the new store's look. "As Coast is an occasionwear brand and offers a more high-end retail experience, it was about creating an experience that was more like checking out at a hotel. So things like cash desks were made to look as simple and clean as possible," he says.
Video content
Apart from iPads, more traditional modes of in-store entertainment such as video still play a role but they too are evolving. Dharmendra Patel, managing director for Europe for PlayNetwork, is working on the UK launch of Victoria's Secret. He says the retailer's New Bond Street store will include customised video content such as streamed fashion shows, and that content for its sub-brand Pink will include QR codes to allow customers to engage. "That helps to develop the experience of a relatively new brand," he says.
Opinions on the effectiveness of QR codes enhancing the customer experience are mixed. Tim Greenhalgh, chief creative officer of design consultancy Fitch, says they must be used in more innovative ways. "We are ready for the next generation. If I am going to take the time to scan a code, then don't just send me off to your website," he says.
For example, Marks & Spencer's recently launched mobile app includes a QR code reader that allows customers to access additional content, from product reviews to suggested food-to-order menus, by scanning codes on in-store signage.
Kiosks have also moved on. For retailers such as Tesco and Argos they are used as stock finders and range extenders but other retailers use them to allow customers greater interactivity with products. M&S's Style Online, for example, allows customers to browse, build and order outfits via in-store touchscreen ordering points or an iPad-armed style adviser. "The new technology provides a more inspirational shopping experience and helps bring a wider product offer to smaller stores too," says a spokesman.
Customer inspiration
Makeover tools are also popular way in providing inspiration to customers. Homebase's Create your Own Look tool – available online and in its Aylesford store – lets customers upload pictures of their rooms and virtually try out paint, flooring, tiles and wallpaper.
Nails Inc's in-store touchscreen in Harvey Nichols in London takes such functionality one step further. As well as 'try it on' technology that allows customers to visualise applied nail polish, customers can create a personalised polish that can be produced and gift-boxed in half an hour. "With the revamp of Nail Inc's ecommerce website, we wanted to bring the offline and online worlds closer," says Helen McCall, account director at Tangent Snowball, which designed the system.
Getting the new approach to the in-store experience right is vital, stresses BT Expedite chief technology officer Steve Thomas, who is responsible for the iPad strategies of a number of leading retailers, including Aurora. "It's about trying to take as much of the information you can get online into the store so that it's more of a shared experience rather than simply staff standing behind a till," he says.
Michelle Du-Prât, insights director at Household Design, points out that the store is becoming a key service touchstone and staff will play "an increasingly important role" as services such as reserve-and-collect develop further. "Integrating innovative services as a valid part of the shopper journey and not an add-on is essential to store format development going forward," she adds.
But Greenhalgh warns retailers not to go over the top. "Don't focus on the technology – focus on the seamless experience rather than having lots of individual experiences," he advises.
Those that do think of the bigger picture will get closer to omnichannel retailing in the true sense of the word – and their customers will thank them for it.
Under one roof technology rules
Don't get carried away with technology for technology's sake.
Ensure it is fit for purpose – for instance Wi-Fi coverage must work throughout the store and changing rooms.
Ensure staff are adequately trained and know how to use the iPad as a conversation starter.
Use iPads in 'kiosk mode' when they are not being used by sales staff.
Assure staff such items are a tool to ensure they have as much knowledge as possible about customer and product. They are there to help them do their job.
Ensure staff can manage the iPad and take payment – for example, Aurora designed satchels for its iPads.