We reveal the retailers and start-up teams that have been selected for the 24-hour Hackathon taking place during Retail Week Buzz next month.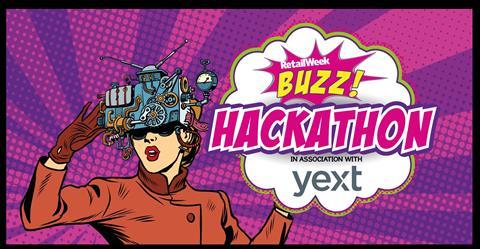 Eight teams have been selected to take part in the Retail Week Hackathon, in association with digital location management company Yext.
The teams – consisting of retailers, start-ups and service providers – will have just 24 hours to build a solution that drives online shoppers into store locations, providing a seamless customer experience in the process.
Teams participating in the Hackathon will have the freedom to develop any innovation they want.
The Hackathon will be held alongside Retail Week Buzz on September 14 and 15. Follow the action on Twitter by searching for hashtag #RWHackathon.
"24 hours to build a solution that drives online shoppers into store locations"
Find out more about the eight teams taking part:
Poq
Team members: Olivier Cottin, Tobias Friedrich, Gabriel Sabiescu, Jean-Dominique Nguele, Gilda Leicer Avila, Anna Abrell.
What they say: Poq is a software-as-a-service start-up that powers the iOS and Android shopping apps of international retailers. We are relentless at seeking out the most advanced technology and our software is constantly improving.
Poq has collaborated with many clients and integrated with lots of partners to launch apps and cutting edge features, including: augmented reality, product merchandising, tailored push notifications and app marketing.
Our platform drives millions of revenue for our clients and facilitates thousands of transactions every day.
Uberated
Team members: Luke Peake, George Lambert, Jason Seegoolam.
What they say: Uberated partners with leading retailers to simplify the shopping experience for their customers. It brings together expert product reviews and ratings from a growing range of trusted publishers, magazines and independent experts.
It then displays these reviews on the retailer's online and mobile sits and product pages, enabling shoppers to quickly decide the right products for their requirements and budgets.
We are passionate about speeding up the shopper journey. Our mission is to make it easier for shoppers to decide what to buy and driving online shoppers into stores plays a huge role in streamlining the shopping experience.
One Iota
Team members: Ross, Adam, Owen, Mark, Joe.
What they say: One Iota are omnichannel specialists that enable retailers to bridge the gap beween online and in-store, driving sales and creating seamless shopping experiences for their connected customers.
The One Iota commerce platform – MESH – empowers retailers and gives them the tools to keep pace with their shoppers across new technologies, devices and channels.
One Iota work with some of the UK's best performing retail brands and we're exclusively focused on retail, giving us a deep understanding of the industry and a laser focus on the challenges retailers face.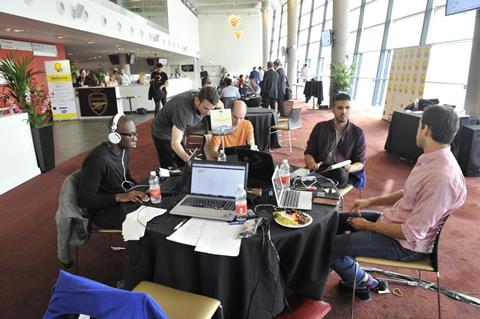 Omnifi
Team members: Nick Holroyd-Doveton, Jack Dewhurst, Aurélien Rubod, Simon Donaldson.
What they say: We are an independent innovation agency who use clever technology to solve challenges, realise new opportunities and create better customer experience.
We do this through strategy, design and build across mobile, in-situ screens, IoT and Wi-Fi.
Footfall, especially relevant footfall, is key to many businesses, and linking online activity to offline store visits is an area of increasing importance and opportunity.
This is being fueled by the huge growth in mobile devices alongside growth in mobile searches with 'local intent' as well as the ability to geo-target and segment audiences via mobile ad networks and social platforms.
Our agency is all about out of the box thinking – churning out the "same old stuff" isn't going to change the face of retail – and that's what we're all about.
Vatcat
Team members: Dmitry Ivanov, Raphael Chow, Patrick McClurg, Harry Bloom, Ken Kwok, Jade Wade.
What they say: We are an early-stage start-up disrupting one of the biggest challenges in retail tourism, due to launch very soon.
Good with Devices
Team members: Ben Widdows, Marek Narkiewics, Stuart Allen, Tom Littleworth, Yupeng Li, Pablo Calvo.
What they say: We live in remarkable times. A new generation of makers, innovators and creative thinkers are disrupting in markets were believed to be well established.
Consumers expect a seamless, engaging customer experience delivered to them across all channels.
Good with Devices in its modern incarnation is a business with one main aim: to help bring about the interactive digital revolution of the high street.
We've created demonstrative technologies for retail displays, re-engineered interactive technologies for brands, even custom built hardware on-brand for specific deployments as well as functional products for multi-million pound payment systems.
We're modest enough to know that there are always other good teams with great ideas, but confident enough in our abilities to be able to stand shoulder to shoulder with them.
Hotstreet
Team members: Andres de la O Jimenez, Liliana Ponce.
What they say: Hotstreet connects brands with consumers around venues and stores through hyperlocal campaigns.
The shopping experience has become the most important differentiating factor for retail companies, the more people inside the store means more opportunity to convert sales.
We are a team of experienced developers and marketers working for national and international companies in shopper and digital areas. We came from the other side of the world to face a new country and we came to make things happen.
Asos
Team members: Sana Sarjahani, David Ironside, Laurence Lord, John Pappin, Giovanni Puntil, Mukhtar Attah.
What they say: Asos is the UK's number one fashion and beauty destination, expanding globally at a rapid pace. With 80,000 product lines across Womenswear, Menswear, Footwear, Accessories, Jewellery and Beauty, we're setting the pace in a worldwide fashion revolution.
Technology is at the heart of supporting business growth at Asos, through delivering incredible platforms and solutions by our award-winning team.
At the centre of this is the technical innovation needed to stay ahead of our 20-something market, the cloud based architecture to support our global reach, and the agile engineering methods to deliver value fast.