MasterCard is poised to pilot flexible payments later this year, allowing shoppers to divide transactions into monthly instalments.
The service, called MasterCard Instalments, is designed to make big-ticket purchases more affordable for shoppers and will allow cardholders to split transactions into equal monthly instalments using their existing debit, credit or commercial card at the time of purchase.
MasterCard has revealed it will test the new option for shoppers in selected European markets during the latter half of 2016.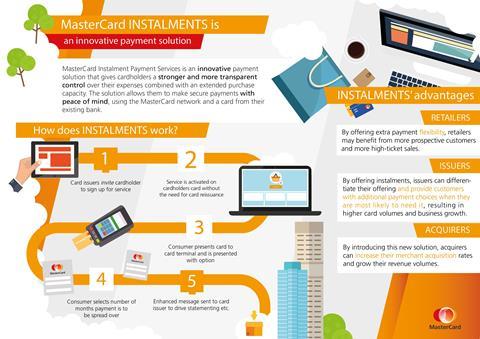 The firm's European head of core products Andrew Buckley said: "Today, everyone is looking for a smarter way to shop - consumers want flexible payment solutions that will help them fulfill their needs while maintaining a better control over their budget."
MasterCard cardholders will be able to sign up for the service online. Users can then pick the flexible payment option on card machines at the point of purchase before selecting the number of months they would like to spead their payment over.
The maximum terms for payment instalments are determined by the card issuers and range on average from three to 12 months.
A MasterCard spokesman said the payment provider was "working closely retailers across Europe" in preparation for the pilot scheme.
The trial follows Amazon offering a similar monthly payment service to its shoppers for purchases over £400.