The Swedish furniture retailer collaborated with design firm Ideo to create an interactive conceptual kitchen of the future.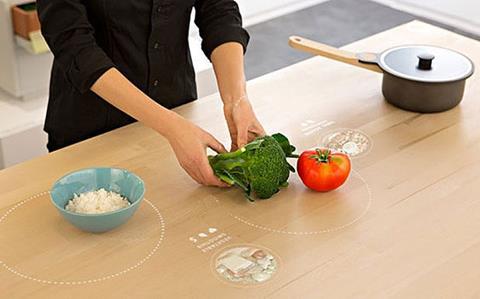 Ikea worked with the design firm and students from the Ingvar Kamprad Design Centre at Lund University and the Industrial Design department at Eindhoven University of Technology over a period of 18 months, exploring how kitchens will look in 10 years time.
The end result of the collaboration, entitled Concept Kitchen 2025, is on display in Milan and includes an interactive kitchen table.
Entitled A Table For Living, the prototype recognises the food that is placed on it and gives suggestions on flavour pairings and recipes. Other features include a built-in hob so users can cook by placing a pan directly onto the table.
Ikea said this concept acts as "a preparation surface, hob, dining table, work bench and children's play area", using technology to "make us more confident cooks, while letting less food go to waste."
While this table is concept piece and not for sale, it is an interesting look at how technology could be integrated into home and furniture retail to improve user experience in the future.