A truly creative customer-centric strategy and wholesale transformation of businesses beyond digital is required for retailers to survive, experts have warned.
This was the overwhelming conclusion from Retail Week's Retail Re-engineered documentary, produced in association with Isobar and Sorted, which has been released today and that you can watch exclusively below.
To gauge what the future of retail is going to look like, Retail Week spoke to Pets at Home group chief executive Peter Pritchard, Schuh ecommerce and customer experience director Sean McKee, former Card Factory CIO and former Asda senior digital director of technology John Nother, Isobar head of innovation Alex Hamilton, and Sorted group chief executive David Grimes.
The documentary, which follows a report of the same name released last year, covers the kind of investments retailers will need to make.
Pritchard cautions: "There is a huge danger that we get obsessed that digitisation is the strategy. Where [in fact] as a retailer the starting point is to think who is your customer and what are their needs and what do they want?"
Retailers also need to decide what areas to stop investing in, he says: "None of us has endless buckets of money. We have to think about how we are going to reorganise and re-engineer the organisation to truly fulfil those needs."
Hamilton believes with the market polarised by convenience-led retailers at one end and experience-led brands at the other, the role of the CMO will become more important in order to deliver a creative user experience and data strategy.
While for Grimes, the future success of the wider retail ecosystem will be dependent on businesses forming true partnerships. Successfully doing so, he says, will be truly transformative.
Want to find out more?
Download your free copy of Retail Re-engineered today and discover: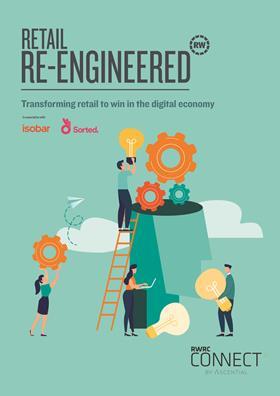 What the new online ecosystem looks like and how you can adapt
Which in-store technologies you should invest in to drive growth
How delivery will be the differentiator and what you need to do
Why transformation means more staff and in which areas