The number of retail and wholesale jobs is poised to plummet by 2 million in the next 20 years, driven by automated technology and online retail.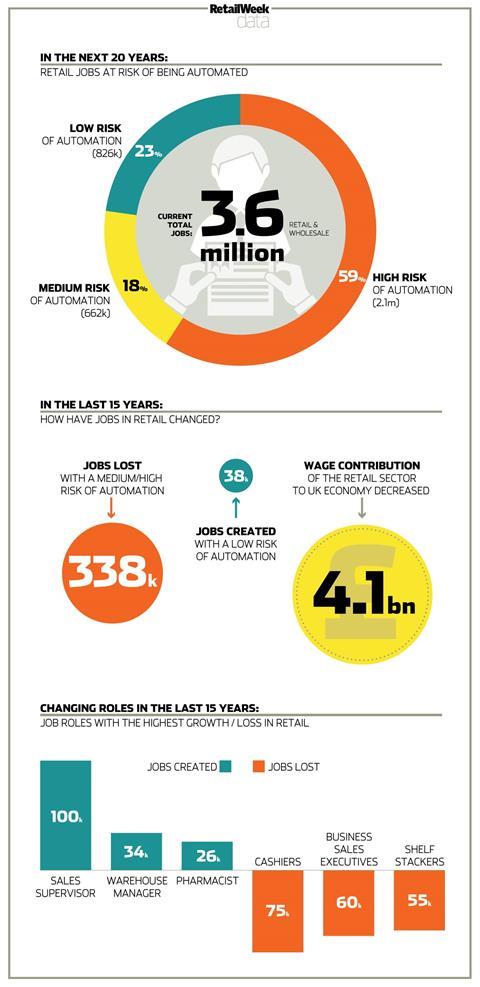 Research firm Deloitte found that the number of jobs available across the sector in the UK had dropped by 300,000 since 2001 – making it the second worst-affected industry after manufacturing. The reduction in roles available has been triggered by two factors – advances in automation technology and the rise of online retail.
Deloitte has forecast that a further 2.1 million jobs in the retail and wholesale sector have a "high chance" of being automated, representing 59% of the 3.6 million jobs that currently exist.
Analysts said a further 18% of jobs have a "medium" chance of automation while 23% have a "low" chance of becoming automated.
Deloitte senior manager Jemma Insall said the "continued trend in home delivery, self-service and automation" had been the driving forces behind job losses in the retail sector to date.
Up until now the jobs that have been replaced by technological advances have largely been repetitive manual labour. There are 75,000 fewer jobs for cashiers and checkout operators and 55,000 fewer shelf fillers today than there were in 2001.
"Retailers look at being cost-competitive and ensuring a good quality of service. If technology can tick both these boxes, you can see why they would want to adopt it"

Angus Knowles-Cutler, Deloitte
Alongside self-checkout devices, innovations in robotic dexterity and cognitive capabilities mean robots can now organise and prepare stock for shipment while saving money for retailers.
Deloitte vice chairman Angus Knowles-Cutler said: "Retailers look at being cost-competitive and ensuring a good quality of service.
"If technology can tick both these boxes, you can see why they would want to adopt it."
Diverse roles at risk
Looking ahead, the roles that could be under threat from technological innovations are increasingly diverse.
As retailers continue to invest in personalisation, automation will play an increasingly vital role in retailers' marketing campaigns.
Automated marketing technology could soon process huge amounts of data to create targeted and personalised campaigns for individual shoppers without human involvement.
"More data-driven, personalised advertising campaigns could lead some displacement, but will complement existing jobs as well," Insall said.
Start-ups such as StyleShoots have also created automated retail photography devices that can photograph stock for a retailer's online offer. The start-up's technology is used by retailers including Marks & Spencer, Boohoo.com and Zalando. If it was adopted across the wider sector, the number of roles available for retail photographers could drop.
Different type of employee
Such technological innovations are likely to see a shift in the type of employees retailers hire in years to come.
The rise of automation is predicted to lead to an increase in supervisor roles to oversee and maintain technology in a retailer's stores and supply chain. Over the past 15 years, sales supervisor and storage and warehousing managers have had the largest increase in retail roles, at 100,000 and 34,000 respectively.
Knowles-Cutler added: "The roles that automation is replacing are largely lower-paying, labour-driven jobs.
"The challenge for retailers will be to create new jobs as quickly as technology replaces them."