Carphone Warehouse has introduced a new mobile payments app powered by Simply Tap.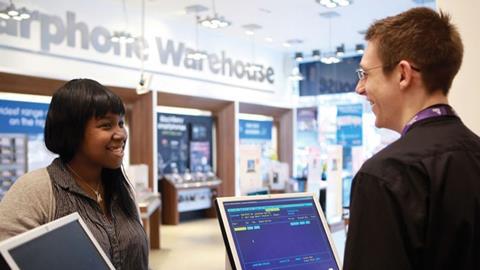 Once customers register for the app they can shop quickly with their payment details already saved by Simply Tap.
Staff at the retailer's 800 stores will help shoppers sign up to the app and use its image recognition.
Using Simply Tap, consumers can shop from a marketplace within the app on their mobile phone or directly from any participating retailer using alphanumeric or QR codes and image recognition via an instant mobile checkout.
Simply Tap is an instant mobile checkout app developed by Mobile Money Network (MMN), chaired and backed by former M&S executive chairman Sir Stuart Rose. MMN has partnered with retailers including HMV, Thorntons and Pretty Green.
The Carphone Warehouse Mobile Checkout app will be available to a smartphone market which has 3.5m potential customers.
Carphone Warehouse chief executive Andrew Harrison said: "There is no doubt that mobile is changing the way that people search for and buy products. We know consumers and retailers alike want to take advantage of mobile payments. Ofcom recently confirmed that 31% of smartphone users have used their devices to take photos of a product and 21% already scan bar codes.
"Forward-thinking retailers are already capitalising on this by installing wi-fi networks and launching specific apps. Carphone Warehouse is at the forefront of innovation to create a better mobile payments experience."