Cancer Research UK has teamed up with Clear Channel to bring contactless donation technology to four of the charity retailer's UK shop windows.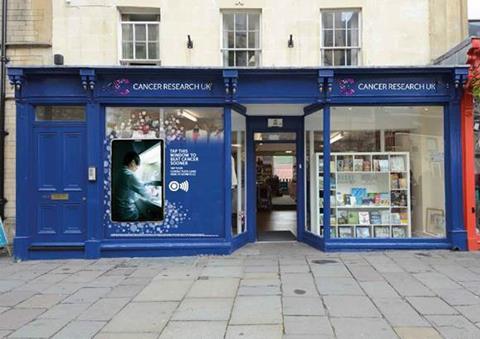 The technology will enable people to make a donation of £2 by tapping their contactless cards on the window of Cancer Research's branches in Kensington, Marylebone, Guildford and Brighton.
Cancer Research UK worked with outdoor media owner Clear Channel UK to develop the technology.
Clear Channel's head of create Neil Chapman said: "this collaboration is a great example of how we can leverage both existing and emerging technology along with consumer behaviour to deliver an innovative new way for Cancer Research UK to raise funding.
"This contactless window display is an important step towards offering brands a contactless payment solution away from their point of sale."
The opportunity to donate through the shop window will be available 24 hours a day, from January 30 until World Cancer day on February 4.