A tech-fuelled unmanned cashless convenience store with a hologram sales assistant and drone delivery is being trialled in Shanghai.
Moby Mart is a staffless retail outlet with a mobile app that unlocks its doors.
Shoppers can ask the AI-powered hologram store assistant, named Hol, any questions about the products, before scanning purchases with their phone to be charged directly to their account as they leave the shop.
The store is restocked by drone delivery, open 24 hours, powered by solar panels and includes an air purifier.
It was developed by Swedish start-up Wheelys in collaboration with Hefei University in China and fellow start-up Himalafy.
Self-drive being developed
Currently stationary, development plans include installing technology that will allow the outlet to self-drive to shoppers who summon it to their location using the app.
The store is in the beta stage of testing and its creators are seeking further investment for a wider roll-out.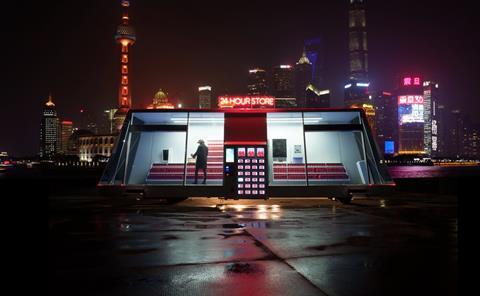 Wheelys product director Per Cromwell said: "In the coming decades, retail as we know it will disappear.
"Stores will become powered by apps, they will become accessible 24/7, and they will become mobile."