Retail Week's ground-breaking new report reveals the findings of exclusive research with 1,000 UK consumers on what sustainability means to them, how it is influencing their spending and how much they care about retailers driving the ESG agenda.
H&M, Primark and Amazon are among the top five best retailers for sustainability. That is according to the results of research conducted with 1,000 UK consumers in January published today in the new report Green Is The New Black.
The report, produced in association with Infor, marks the first time Retail Week has surveyed consumers to understand the sustainability practices that will truly sway their spending – and indeed what sustainability really means to them.
It found there was uncertainty among some consumers as to which retailers are performing best on this metric.
Significantly, more than a third (35%) of consumers said they either didn't know, couldn't think of one or were not sure which retailer was the most sustainable.
Men are more likely to be influenced by eco credentials than women, while Gen Z are the most likely to be sustainability-conscious and Baby Boomers the least
However, despite this, the majority of consumers surveyed were found to be more likely to buy from a retailer or retail brand with strong ethical and sustainable credentials (55%).
Interestingly, men are more likely to be influenced by eco credentials than women (59% compared with 50%), while Gen Z (consumers in the survey aged 18-24) are more likely to be sustainability-conscious and Baby Boomers (65 and over) the least.
Many retailers and brands are making efforts to be greener and this is capturing customer attention.
Consumers named their top five most sustainable companies in the industry as H&M, Nike, Primark, M&S and Amazon. View the full ranking of the top 21 sustainable retailers in the report here.
Primark and Amazon's inclusion in the top-five list is intriguing considering very public criticism aimed at these companies in the past. The report explores how these businesses have been working to become more sustainable in the eyes of consumers.
Below we take a look at how the top-polled retailer, H&M, has been leading the green wave.
H&M
CEO is part of an alliance of leaders working with governments to reduce carbon emissions
Consumers recognise H&M's sustainable clothing range Conscious
Has been trialling clothing recycling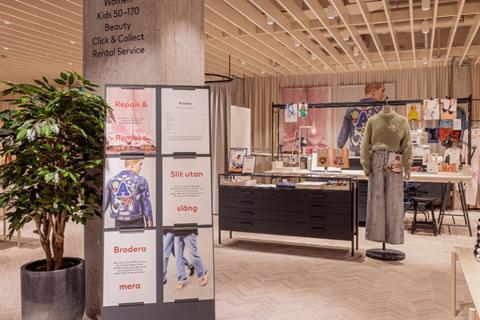 At the top of the list is H&M, which has been working hard to improve its position within the fast-fashion space.
This includes a continued effort to use more sustainable and recycled materials in the clothes it manufactures and its widespread involvement in coalitions that aim to reduce fashion's footprint on the natural world.
H&M is trialling a clothing-to-clothing recycling scheme in its home country of Sweden and offers clothing take-back schemes in its stores globally, but perhaps the biggest sign of its commitment to be a greener business is in its leadership.
Helena Helmersson took over as CEO in January 2020, having been the retailer's sustainability manager – an unusual career trajectory, but perhaps one retail will see more often in the future.
Consumers surveyed in the report mentioned H&M's sustainable fashion range Conscious – which launched back in 2010 and has continued to evolve – as well as its recycling options and sustainable packaging, including reusable bags, as reasons they perceived the retailer to be the most sustainable.
How do other retailers fare for sustainability?
Access your free copy of Green Is The New Black: How to become a more sustainable brand today to find out.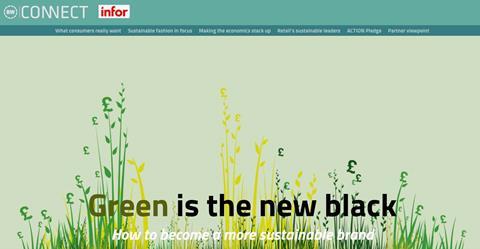 You will also discover:
The factors driving consumer demand for sustainability and their propensity to spend
How much consumers care about sustainability practices, particularly with regards to fashion – and if greenwashing impacts their perception of retailers
What retailers like yours

can do to make the economics of sustainability stack up

How sustainability is increasingly becoming a top priority for policymakers and investment houses too

Infor is revolutionising retail with a new generation of enterprise software – through beautiful design, engaging experiences and the power of science.