PAID FOR POST
The Hermes Supply Chain Blog on Retail Week
Hermes chief executive Martijn de Lange on why planning ahead for peak trading periods will drive success through the supply chain.
As we reach the end of the year and finalise our preparations ahead of the Christmas peak, it is also a perfect time to reflect back on another Black Friday.
With so much emphasis being placed upon that one short period throughout the entire year, there's almost a sense of anticlimax once it passes.
It was fascinating to read that the amount spent on UK retail websites on Black Friday rose by almost 12% this year to £1.39bn, according to IMRG. This surpassed the growth forecast of 9%, despite the event falling before November's pay day for many people.
This year, Black Friday thankfully made media headlines for the right reasons, as extensive preparation and continued investment from the home-delivery sector paid off.
There were also a number of other insightful Black Friday trends that caught my eye and I wanted to share some of them with you:
Clicks versus bricks
While £1.39bn was spent online, analysis firm Springboard said footfall across shopping centres and retail parks was down 3.6%.
This trend illustrates that retailers will continue to rely heavily on online sales and therefore the partnerships they hold with their home-delivery providers.
Consequently, these carriers have an obligation to bolster their operations and increase their capacity each year.
Thanks, Alexa
We are yet to see the UK results, but Amazon recently revealed that its Alexa-enabled devices took the top spot in the US over the Black Friday weekend, with sales running into millions.
The Echo Dot was also named Amazon's best-seller globally across all categories.
This demonstrates just how popular digital assistants have become over the past 12 months and, as a result, more organisations and service providers will now have to ensure that their solutions can work in harmony with these devices.
Earlier this year we proudly became the first UK parcel company to integrate our tracking solution with Alexa and Google Assistant, and we continue to work hard to develop that functionality even further.
Talk to me
To continue the technology theme, IMRG has said that 39% of money spent was done so via a smartphone, taking the highest share against desktop and tablet.
This was despite Black Friday being a 'standard work day' where a high number of people would have spent significant time sitting in front of a computer.
This suggests that marketers across the retail sector are certainly doing something right when it comes to the mobile optimisation of their websites.
At Hermes, our meticulous planning and ongoing investment ensured we were able to deliver another hugely successful Black Friday weekend for our valued customers, handling more than 4.8 million parcels (up 7% year on year).
However, for our team and the wider industry, there is still hard work to come. Over the coming weeks carriers must continue to work closely with their clients to process the final Christmas forecasts and to guarantee the busy festive period will be equally as effective.
We look forward to reading more positive news stories from across the industry once the peak season draws to a close.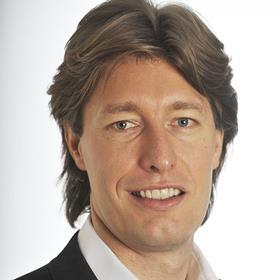 Martijn de Lange is chief executive of Hermes