RWRC's Supply Chain 2021 report looks at how the coronavirus crisis has exacerbated returns rates and why it is imperative retailers act now to protect their bottom line
Reverse logistics has become a huge factor for retailers to consider in recent years but the shift to online shopping in the wake of the pandemic has caused a further spike in returns.
With pressure on for retailers to process returns quickly while setting the highest standards of safety for customers and colleagues, Supply Chain 2021 – produced in association with CORE, Maersk and 4C Associates – explores the issue.
The scale of the problem
For a retailer, the process of returning an item can cost up to twice as much as it does to deliver it, KPMG reports.
Research from buy now, pay later payments provider Openpay estimated items bought online and returned in the UK were worth £5.2bn annually in a study published in May.
It argued the coronavirus crisis was heightening the problem with retailers forced to extend returns windows and provide more "goodwill" gestures to customers during lockdown.
The rise of online retail goes hand in hand with increased returns because consumers cannot see or try before they buy. However, bricks-and-mortar retailers dealing with social distancing and increased health and safety measures also have restrictions on fitting rooms, further fuelling uncertainty in purchasing decisions – particularly fashion.
It is now crucial that retailers act to tackle the increasing volume of returns and keep the spiralling cost of processing them down. There are signs that some are.
Learnings from retailers
Women's fashion etailer Sosandar is one of a limited number of retailers that regularly publicises its returns rate to show stakeholders how it manages its operations. It was at 50% for the 12 months to March 31, but in the first quarter of the new financial year, it dropped to 38%. Sosandar attributed the improvement to its product mix and a shift in customer behaviour across all categories.
Asos also reported "a significant and sustained reduction in returns rates" between April and August, saying customer demand for 'lockdown' categories, such as activewear and face and body, helped bring the figure down as customers were more certain in their purchasing decisions. Asos spoke of "a prolonged shift in customer behaviour towards more deliberate purchasing across all product categories, even when sales momentum has improved", hinting at long-term improvement in this field.
As for retailers taking direct action to tackle the returns problem over the past year, in the UK, Next charges a small fee if consumers want to return items. In the US, Kohl's ended its longstanding 'no returns deadline' policy in 2019 and instead now urges consumers to send or bring back items within 180 days.
Walmart has also taken action. Notably, during the pandemic, the US retail giant changed its policy to only accept returns online, refusing to take back many items in its stores as a health and safety measure, while it reorganised its customer service team.
Most Walmart stores now offer standard returns policies again but the move shows how operations are just as severely impacted by inbound goods as outbound.
Case study: Bloomingdale's B-Tags
The problem of returns is not new and has been challenging retailers for years. However, there are established solutions that other businesses could take inspiration from – particularly where fraudulent activity is concerned.
Since 2013, US department store chain Bloomingdale's has sold some of its most popular ranges with a 'B-Tag' security label still attached. The tag works by allowing the customer to press the 'B' button on the tag to remove it but once removed it cannot be reattached.
In an attempt to stop people wearing items once or twice and returning them for a refund, the retailer refuses to process returns if the label has been removed.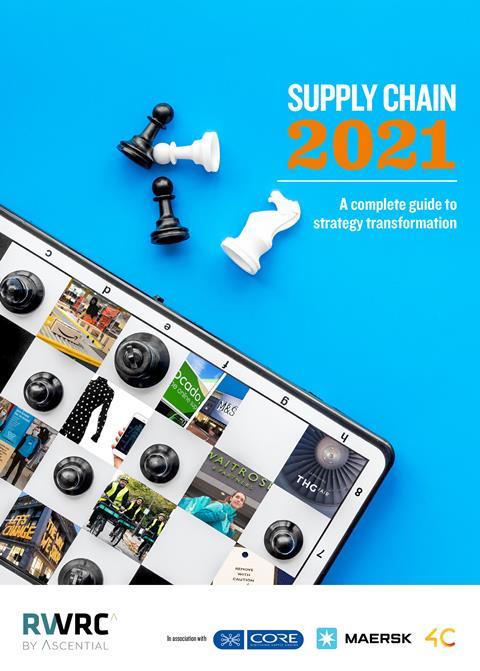 Want more advice on how to make the final mile pay for your business? Download your free copy of Supply Chain 2021 for your complete guide to strategy transformation.
You will also gain access to:
The five key areas you need to invest in now for your operations – from data-driven innovation to sustainability
What you can learn from retailers and brands at the forefront of transforming their operations for this new world – from Amazon to Levi's
Guidance on how to get your supply chain Brexit-ready