PAID FOR POST
The Hermes Supply Chain Blog on Retail Week
I've been having my bathroom renovated over the past couple of weeks, which has given me my first real taste of shopping DIY, and I'm not impressed.
Big-ticket shopping isn't necessarily last-minute but – mainly because of my apparent inability to use a tape measure – I needed some items for the revamped bathroom pretty urgently.
Easier said than done. First I tried market-leader B&Q. I found what I was looking for on its website – a bathroom cabinet from its Cooke & Lewis own brand. Perfect.
So, I proceeded to checkout to find I had to wait 21 days for delivery. Seriously? In this day and age when next-day delivery is the norm.
I even tweeted the B&Q customer services team to make sure it was true (it was).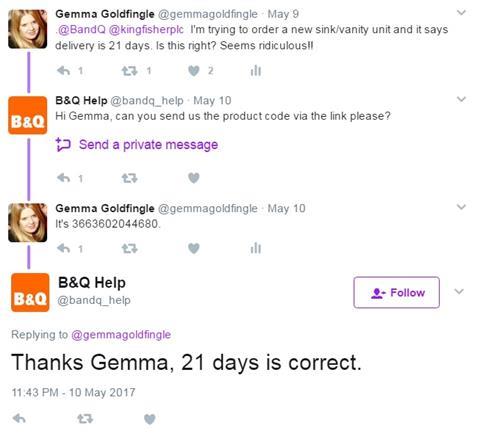 Affronted, I decided to take my custom elsewhere – Wickes, in fact.
Now, I've read a lot about Wickes investing in multichannel. Last year it launched a one-hour delivery window and does same-day delivery on up to 7,000 products.
Getting my new bathroom cabinet before the end of the week would be a doddle then. Or so I thought.
Said (fairly basic) bathroom cabinet would be delivered within 28 days.
It was a similar story at Homebase, which also offered a 21-day window.
Losing custom
Surely I can't be the only person who needs bathroom furniture sooner than a month's timeframe?
Luckily, I found a wide array of smaller online retailers happy to help. I eventually bought my gear from BigBathroomShop.com, which delivered the goods the very next day.
DIY lags behind other sectors in terms of online penetration, with only 5% of sales made via the internet. This compares with 22% that are made online across all of non-food.
Is that lag down to a weak consumer appetite to buy DIY online, or the poor offer from the big players?
The sector is ripe for disruption. B&Q and the like are missing a trick by not serving the 'want it now' online shopper – and with a plethora of smaller pureplays biting at their heels, they stand to be left behind.