Retailers need to revisit their sourcing strategies constantly, juggling and rejigging the equations of supply, demand and delivery. Liz Morrell investigates which regions they currently favour.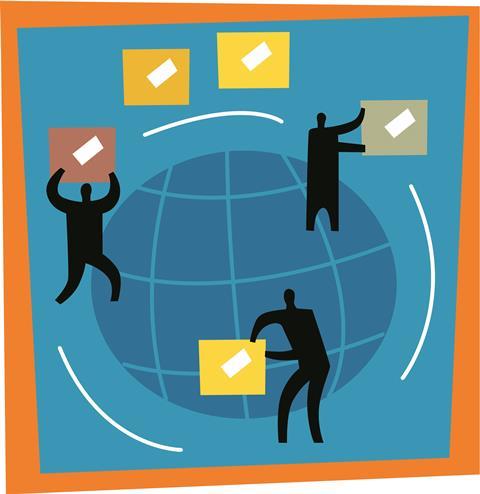 In the drive to boost margins, maximise profits and deliver new and exciting products, a good retail sourcing strategy is an underlying principle for any retailing business, but a constantly evolving challenge.
What can start as a new, low-cost emerging sourcing destination can quickly lose its competitive advantage. "As sourcing locations become more successful, the workforce wants a better standard of living, which then drives up labour costs," says Brian Templar, chairman of supply consultancy Davies & Robson.
The trend is largely driven by the fashion sector in which seasons, trends and demand influence the market and where reasonably transferable skills – material cutting and sewing, for example – make switching markets easier.
"It's different for things like DIY products – a screw or a hinge doesn't change every season and demand is relatively constant. So the likes of B&Q can get these products made and stored in China and call off pallets just as though the warehouse was in the UK, as they're not needed in a short-time window," says Templar.
Cheaper labour costs and duty rates are increasingly driving retailers into new markets. "The quest to maintain product margin as commodity prices soften slightly but wage and freight rates increase means that the only real way to reduce costs is to move to countries where labour costs and duty rates are lower," explains Christine Cross, chief retail and consumer adviser at PwC.
That means that sourcing powerhouse markets such as China, where the clothing duty rate is 12% and labour costs are rising as the labour force matures, are becoming less popular for some retailers. "Due to its success as an industrial nation, China is no longer automatically the cheapest sourcing location and companies looking only for the lowest cost are now looking at locations like India and Sri Lanka instead," says Templar.
Sourcing strategies
Meanwhile, the zero duty rates of countries such as Bangladesh and Cambodia are encouraging more retailers to source from there – especially within the clothing industry. "A lot of high street retailers are trying to get into Cambodia because the Chinese are also doing joint ventures or investing there. So for the volume producer Cambodia is emerging as a new sourcing market," says Simon Smith, director of Discern Consulting.
Other increasingly popular markets include Vietnam, Indonesia, Thailand, Pakistan, Egypt and Morocco, while some European fashion brands are looking at Latin America in countries such as Bolivia and Honduras.
Burma is also on the horizon as a new sourcing destination, according to Smith, who says retailers are already exploring opportunities there. "It has a cheaper labour market, very good natural resources and a government that is keen to entice and encourage manufacturing. However, it is waiting for the political situation to be cleaned up."
With fast fashion driving the shift, retailers such as New Look have long been sourcing from locations including Bangladesh, Cambodia and Vietnam. "We have been buying in those markets for quite some time," says New Look group sourcing and menswear buying director Philip Walker. He says the retailer will retain its focus on those markets to gain competitive advantage.
For New Look the balance of sourcing must also take into account the ethics and policies of a country – and the quality of supplier relationships. "We look at speed, quality and a very strong ethical commitment. It's about working with your partners and making sure you get the best from them," says Walker.
Perhaps one of the most surprising trends though has been a gradual return to UK and European sourcing, the biggest change in sourcing strategy for New Look, according to Walker.
"Uncertain trading patterns mean retailers need 'near shore' sources of supply for in-season top-ups, and the zero duty rates of Turkey, and some central and western European countries, together with a net currency benefit are also driving trade closer to home," says Cross.
Environmental concerns are also affecting the trend, according to Emma Rowlands, UK sales director of Kerry Logistics. "With the drive to be more proactive in reducing carbon emissions and environmental footprint, sourcing closer to home is becoming a consideration," she says.
Walker says that in line with many in the fast-fashion industry, New Look has been increasing its UK sourcing for the last year or so and retailers in other sectors are also driving the trend. "It's about speed to market," he adds.
A balanced approach
Sue Butler, director of management consultancy Kurt Salmon, says retailers are increasingly using a stable of sourcing locations to meet their needs. "Successful companies are operating a 'balanced' sourcing model, that incorporates a mix of sourcing countries, taking into account cost, quality, lead times and risk factor," she says. "This means that companies are probably going to retain the bulk of their production in their traditional markets where they have invested in the relationship with their suppliers, but are more open to exploring new regions for select items."
However, retailers must balance the benefits and pitfalls of new markets. Stuart Grant, buying director at toy retailer The Entertainer, says for this reason, despite the advantages of newer locations, China still remains his primary sourcing destination. "China is still by far the most effective region for producing toys, which have stringent safety regulations and often many components that can require a large labour force to pull from. There just isn't the infrastructure – whether on the transport side or the sheer volume of factories needed to, say, make a doll – in other countries so probably around 95% of what goes through my tills is from China still," says Grant.
So while the markets may change, the fundamental challenge of sourcing remains, according to Templar. He concludes: "Finding the right sourcing location is all about the trade-off between cheap labour, product quality and the time and cost of transport, especially in fashion."
The move back home
The UK has proved an increasingly attractive market for sourcing, as increases in freight costs, raw material prices and labour costs contribute to an erosion of the overseas benefits.
In addition, the shortened lead time and the ability to make to order – enabling a rapid response to customer demand and therefore less capital tied up in inventory – also attract more retailers to source from the UK. Among them is John Lewis. "We are seeing a gradual closing of the pricing gap that exists between production in the Far East and Europe, particularly as labour costs rise in markets such as China. With this in mind, there is a continuation of the trend for production to move to markets nearer to the UK, and some to the UK itself," says Sean Allam, head of product sourcing and services at John Lewis.
Allam says the strategy at John Lewis has been the result of a number of factors, including market conditions and consumer demand. "Speed to market is a key competitive advantage. UK manufacturers offer a much faster route from supplier to shop and are also synonymous with quality and craftsmanship. The quantity of product bought also has an impact on the country we source from. We buy some products in small quantities, for instance in gifting, which would not make sense to source from overseas," he says.
The retailer stocks UK-made brands including Barbour, Dualit, and Darlington as well as operating its own factory in Darwen, Lancashire, called Herbert Parkinson, which will celebrate 60 years in the John Lewis Partnership in 2013.
The launch of a Made in UK product identifier this year was a direct response to a rise in customer enquiries, according to Allam, and is on more than 4,000 products.