PAID FOR POST
The Hermes Supply Chain Blog on Retail Week
A recent campaign by Hugh Fearnley-Whittingstall is attempting to draw attention to the UK's huge food waste. What can the supermarkets do to help?
In recent years, celebrity chefs have taken it upon themselves to wage war on everything from school dinners and genetically modified crops to obesity, with varying degrees of success. Hugh Fearnley-Whittingstall is the latest to join their ranks with his War On Waste.
Fearnley-Whittingstall is attempting to find out why as a nation we waste so much food, and what we can do about it. His BBC documentary, War On Waste, revealed that one third of the food we produce doesn't get eaten, the average family wastes £700 worth of food every year and more than 4 million tonnes of edible food gets binned.
One of the challenges he highlights for farmers growing much of this produce is the exacting cosmetic standards supermarkets adhere to for their fruit and vegetables. Perfectly edible produce can be discarded in great quantities for being too short, too long, wonky, or simply the wrong shape.
The criticism is levelled at consumers too for not only wasting food, but for perpetuating the need for perfection in our vegetables.
This is an important but complex issue; it can't be fixed by supermarkets simply dropping those cosmetic standards all together. Shoppers are used to perfect produce that gleams at them from the isles of supermarkets, and so persuading them to pick an ugly sister is not going to be easy.
French supermarket chain Intermarche launched an innovative campaign in 2014 to try to combat this very problem and change consumer perceptions of ugly, lumpy and misshapen fruit and vegetables.
Produce that would otherwise have been thrown away by farmers because of its appearance was sold under the Inglorious fruit and vegetables brand for 30% less than its perfect counterparts.
The Inglorious fruits and vegetables campaign gave personalities to the produce, including the ugly carrot, the failed lemon and a grotesque apple.
The campaign was about embracing the fruits and vegetables, and took a humorous rather than moral tone. The company even produced soups and juices under the inglorious branding to show shoppers the misshapen produce tasted the same once cooked.
According to Intermarche, the campaign was a huge success from both a marketing and sales perspective. Overall store traffic increased by 24%, mentions of Intermarche on social media increased by 300% during the first week, and on average stores sold 1.2 tonnes of the Inglorious fruits and vegetables during the first two days.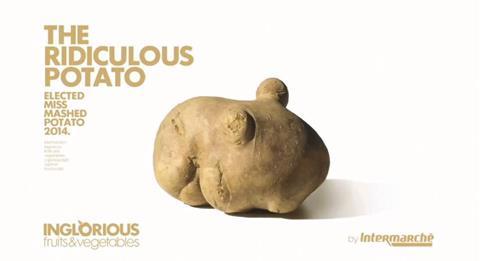 It has since sparked similar campaigns from other grocery retailers, not just in France but across the world.
While the grocers are not solely responsible for the volumes of food wasted in the UK, they do have a part to play.
Campaigns such Inglorious show how supermarkets can work to raise awareness of food waste and change consumer perceptions in a fun rather than judgemental way, while also increasing sales and providing a PR boost.
Now there is some food for thought.