Wegmans is one of the more upscale food retailers in the eastern United States and, like its rivals, it generally trades from big box properties.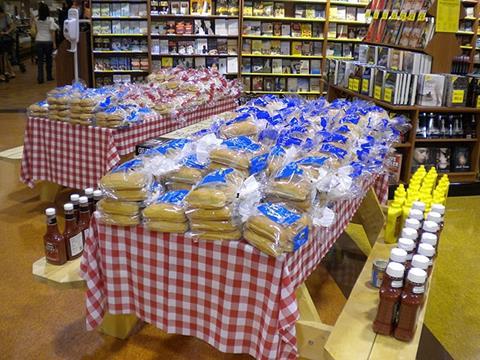 However, unlike the great majority of them it does manage to make the business of food shopping fun rather than a distress purchase and it does so through the very simple expedient of visual merchandising.
This picnic bench (pictured), of the kind found in National Parks across the US, is a case in point. There really is very little point in taking a couple of these, covering them in red and white gingham and then piling burger buns on their tops and filling the seats with mustard and ketchup bottles, except that it creates interest.
Although there are a few aisles for the more commodity-based items, wander around this store and in place of the normal aisles there are areas where mealtime suggestions are made by the positioning of ingredients and where you stop to consider which kind of maple syrup, for instance, you might want to go with the adjacent pancake mix.
Couple all of this with a seeming determination to avoid a sense of a big white box - largely achieved by painting the ceiling a curious shade of brown and ensuring that it is not too high - and you have a store that you might want to visit.
There is much about big box retailing that works - ease, convenience, functionality - but it isn't often that you'll find an interior on this scale that appeals. Wegmans is the exception and stands as an example of how good retailing and a strong sense of design can combine to create a store that makes you want to go back. It's also worth noting this was by far the busiest store on the big box strip.